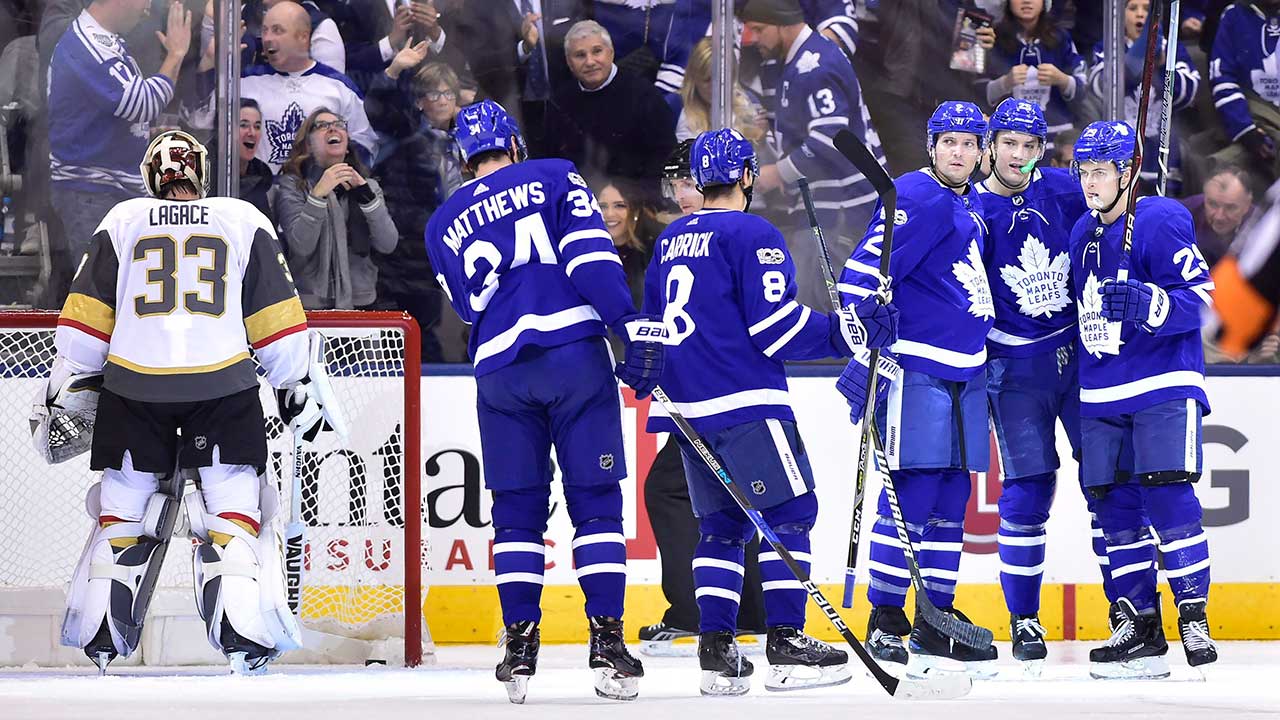 TORONTO – Crisis averted.
In the minds of the Toronto Maple Leafs, even if not quite in reality.
The Leafs found a smoother surface amid a rough patch of road when Mitch Marner scored the lone goal of the shootout to give Toronto a 4-3 win over the plucky Vegas Golden Knights.
That came with some temporary relief for a Toronto team which had dropped five of its previous six. Tensions had been rising in the city, although they'd been working to keep that noise out of the dressing room.
"What I like to do is just be steady on the rudder," said Leafs coach Mike Babcock. "Do we need to fix this? Absolutely. We weren't very good on the trip. I liked us at times, I didn't like us at other times."
It was unclear whether Auston Matthews would even be able to play after he left the morning skate abruptly with what Babcock called a "little soreness." However, he battled through to dress for a 98th straight game to start his NHL career.
The Leafs enjoyed a flying start, with Nazem Kadri burying a power-play goal at 4:14 and James van Riemsdyk banging home a loose puck at 9:31 after Matthews skated it the length of the nice and beat defenceman Luca Sbisa by spinning on the edge of his skate blades.
Even though James Neal sandwiched those goals with one for Vegas that banked off his right foot, Toronto didn't appear to be in much trouble.
Kadri extended the score to 3-1 with a spinning backhand of his own before the intermission.
However, the Leafs didn't carry much of that momentum into the second period – getting bogged down and finding some penalty trouble. The last of three straight minors went to Matthews – his first penalty taken in 38 games – and Reilly Smith ended up firing a rebound into the empty side of Frederik Andersen's net on the ensuing power play.
Shortly after a potential Tyler Bozak insurance goal was waved off because of a high-sick, Deryk Engelland tied it at 6:16 with a bad-angle shot that travelled over Andersen's shoulder.
if ( "1" == true …read more
Source:: Sportsnet.ca – Sports news
(Visited 3 times, 1 visits today)
Leafs find temporary relief with SO win over Golden Knights