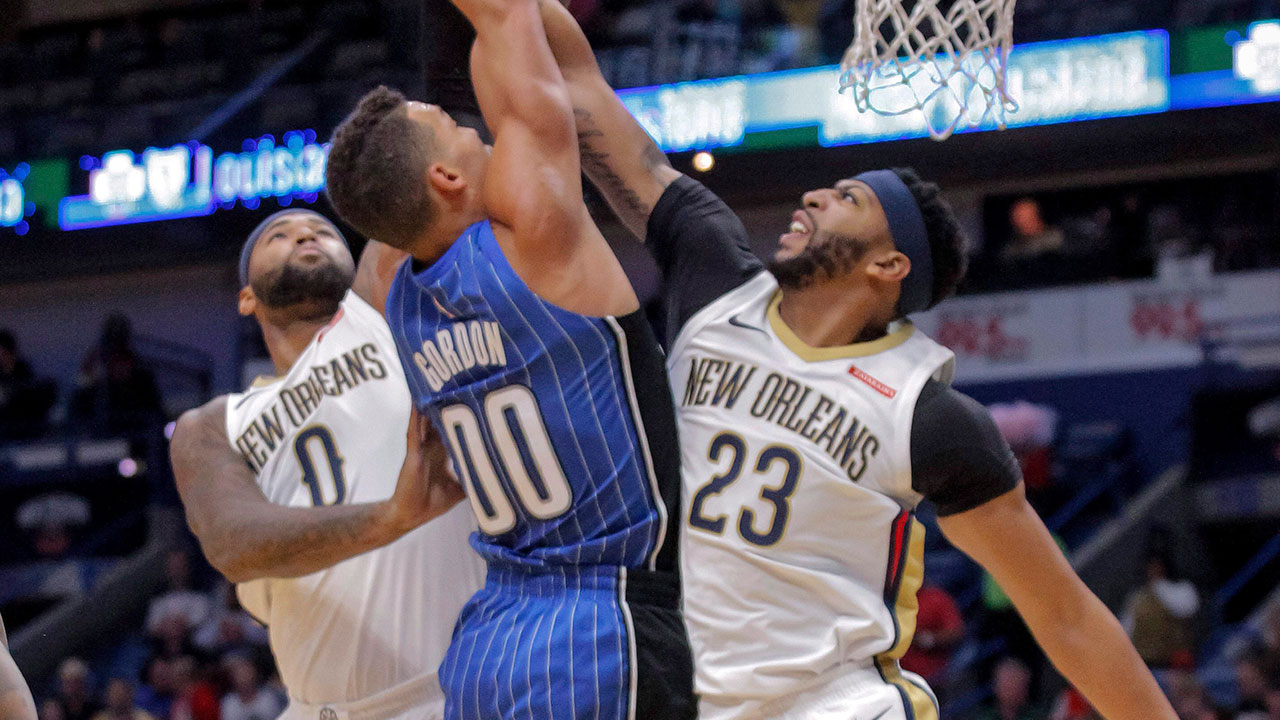 The Toronto Raptors look to finish their current three-game homestand on a winning note versus the visiting New Orleans Pelicans on Thursday.
The Raptors will have all hands on deck once more against a team that poses a decidedly different—and far greater—threat than their last opponent, the 2-7 Chicago Bulls.
The Pelicans' 6-5 record may not seem like much, but they've won three straight heading into Thursday night's game, and their all-NBA frontcourt of Anthony Davis and DeMarcus Cousins have been red hot to start the season.
The 2017-18 edition of the Raptors and their deep, physical stable of bigs may have a better chance against New Orleans' twin towers than Toronto teams of the past, but the team is preparing for a tough battle. As head coach Dwane Casey said after shootaround Thursday morning: "It's going to be a wrestling match."
Projected Starting Fives
Raptors
Kyle Lowry
DeMar DeRozan
Norman Powell
Serge Ibaka
Jonas Valanciunas
Pelicans
Jrue Holiday
E'Twaun Moore
Dante Cunningham
Anthony Davis
DeMarcus Cousins
Strength in numbers
One of the few teams with two players on Sportsnet's pre-season list of the 30 people who will define the NBA in 2017-18, any conversation about the Pelicans starts—and often finishes—with their star duo of Cousins, the best centre in the game, and Davis, who is probably one of the most overlooked/under-appreciated superstars in pro sports today.
Both are in the top six in scoring and rebounding this season, with Cousins averaging 28.9 points and 13.6 rebounds per game and Davis right behind at 28.4 points and 12.8 rebounds. They're also each blocking two shots per game, and are two of the Pelicans' better three-point shooters (Davis leads the team at 41.4 per cent beyond the arc).
They protect the rim, hound the ball, score from all over the court, run screens for one another. It's crazy. It really is.
if ( "1" == true && 'undefined' !== typeof window.getIndexAds ) {
var so = {preroll:{1:{1:{siteID:191888},2:{siteID:191889}}}};
adServerUrl = window.getIndexAds( 'http://pubads.g.doubleclick.net/gampad/ads?sz=640×360&iu=%2F7326%2Frogers.broadcast%2FSportsNet.Sportsnet%2FVideo&ciu_szs=300×250&impl=s&gdfp_req=1&env=vp&output=vast&unviewed_position_start=1&ad_rule=1&vid=5640776110001&cmsid=384', so, permalink);
} else {
adServerUrl = "http://pubads.g.doubleclick.net/gampad/ads?sz=640×360&iu=%2F7326%2Frogers.broadcast%2FSportsNet.Sportsnet%2FVideo&ciu_szs=300×250&impl=s&gdfp_req=1&env=vp&output=vast&unviewed_position_start=1&ad_rule=1&vid=5640776110001&cmsid=384";
}
Source:: Sportsnet.ca – Sports news
(Visited 9 times, 1 visits today)
Raptors prepare for 'wrestling match' vs. Pelicans' Cousins, Davis