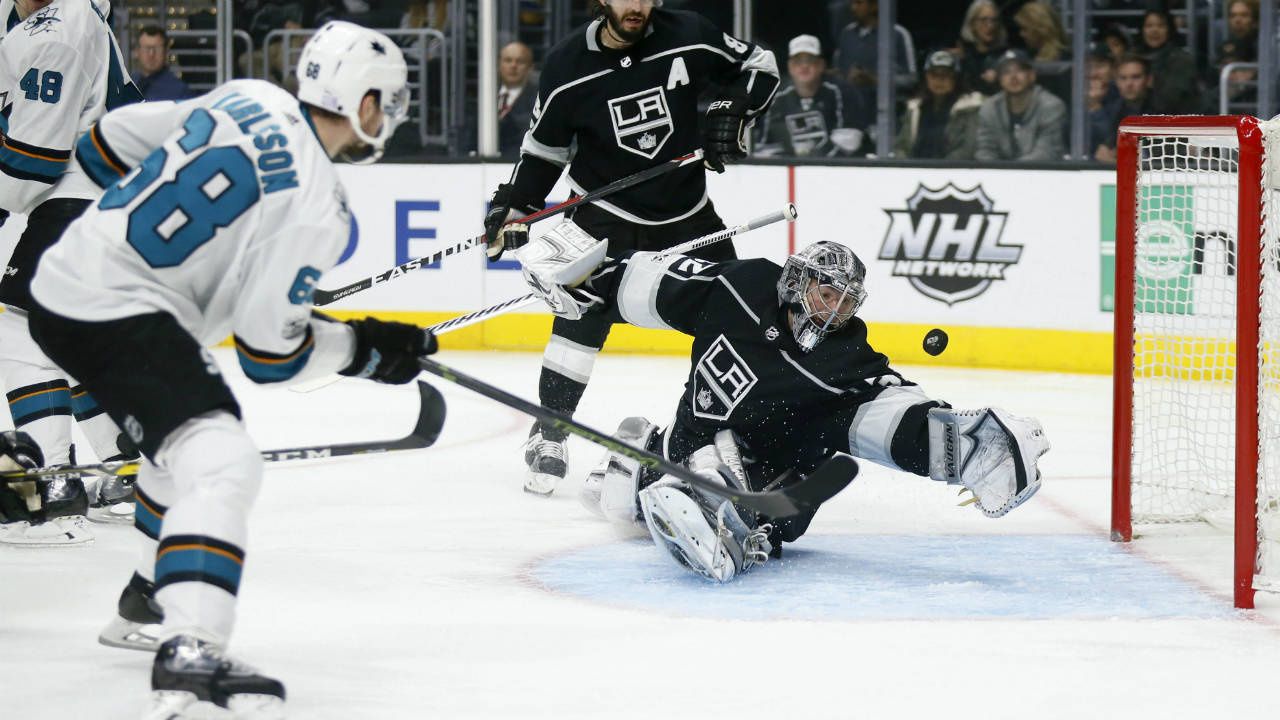 LOS ANGELES — Joel Ward scored the tiebreaking goal on a long deflection off his skate with 7:10 to play, and the San Jose Sharks rallied from a third-period deficit for a 2-1 victory over the Los Angeles Kings on Sunday night.
Melker Karlsson scored the tying goal early in the third before Ward used his left skate from the faceoff circle to redirect Barclay Goodrow's shot for his third goal of the season.
Martin Jones made 26 saves for the Sharks, who have won six of seven overall after evening the season series with their California rivals in a defence-dominated game.
Dustin Brown scored on a first-period power play for the Pacific Division-leading Kings, who have lost four of six after a 9-1-1 start. Jonathan Quick stopped 31 shots, but Los Angeles lost back-to-back games for the first time this season.
Captain Anze Kopitar extended his points streak to a career high-tying eight games with an assist for the Kings, but the game was appropriately low-scoring for a meeting of the NHL's two stingiest defensive teams.
The Kings went ahead in the first period on Brown's redirection of Kopitar's shot for the Kings' sixth power play goal in six games.
if ( "1" == true && 'undefined' !== typeof window.getIndexAds ) {
var so = {preroll:{1:{1:{siteID:191888},2:{siteID:191889}}}};
adServerUrl = window.getIndexAds( 'http://pubads.g.doubleclick.net/gampad/ads?sz=640×360&iu=%2F7326%2Frogers.broadcast%2FSportsNet.Sportsnet%2FVideo&ciu_szs=300×250&impl=s&gdfp_req=1&env=vp&output=vast&unviewed_position_start=1&ad_rule=1&vid=5643921960001&cmsid=384', so, permalink);
} else {
adServerUrl = "http://pubads.g.doubleclick.net/gampad/ads?sz=640×360&iu=%2F7326%2Frogers.broadcast%2FSportsNet.Sportsnet%2FVideo&ciu_szs=300×250&impl=s&gdfp_req=1&env=vp&output=vast&unviewed_position_start=1&ad_rule=1&vid=5643921960001&cmsid=384";
}
$el.after( unescape("%3Cscript src="" + (document.location.protocol == "https:" ? "https://sb" : "http://b") + ".scorecardresearch.com/beacon.js" %3E%3C/script%3E") );
$( document ).one( 'ready', function() {
$( "#video_container-253538" ).SNPlayer( {
bc_account_id: "1704050871",
bc_player_id: "rkedLxwfab",
//autoplay: false,
…read more
Source:: Sportsnet.ca – Sports news
(Visited 4 times, 1 visits today)
Sharks ride third-period comeback to win over Kings