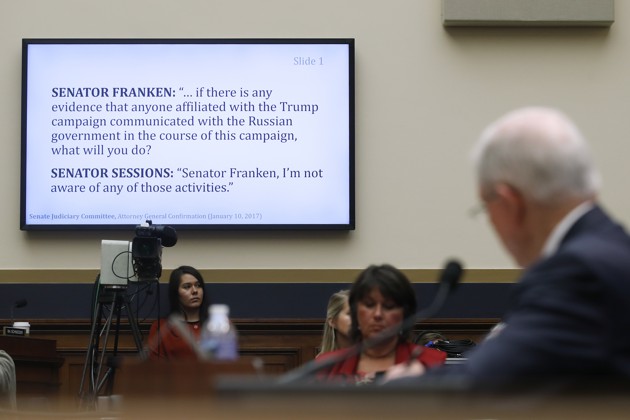 Today in 5 Lines
During his testimony before the House Intelligence Committee, Attorney General Jeff Sessions defended his past statements about Russia and the Trump campaign. When asked about the sexual-misconduct allegations against Alabama Senate candidate Roy Moore, Sessions said he has "no reason to doubt" Moore's accusers. In another House hearing, two female lawmakers accused sitting male lawmakers of sexual harassment and misconduct. Senate Republicans announced that they will include a provision to repeal the Affordable Care Act's individual insurance mandate in their tax bill. And the federal judge overseeing the bribery trial of Democratic Senator Robert Menendez encouraged jurors to take their time reaching a verdict, after the group was deadlocked on Monday.
Today on The Atlantic
'The Making of an American Nazi': In our December cover story, Luke O'Brien describes how Andrew Anglin, the publisher of the world's biggest neo-Nazi website, became one of the alt-right's most vicious trolls.
Breitbart v. Breitbart: Andrew Breitbart once said that "politics is downstream from culture." But the website he created has since "shaped a culture on the populist right that has proven deeply corrosive"—and destroyed his legacy in the process. (Conor Friedersdorf)
Benefiting From Affirmative Action: Reflecting on his tenure at the New Republic, Peter Beinart asks himself what kind of journalistic career he would have had without affirmative action: "A less successful one, probably."
Follow stories throughout the day with our )
Source:: <a href=https://www.theatlantic.com/politics/archive/2017/11/the-atlantic-politics-policy-daily-jeffs-concessions/545924/?utm_source=feed target="_blank" title="The Atlantic Politics & Policy Daily: Jeff's Concessions" >The Atlantic – Best of
(Visited 2 times, 1 visits today)
The Atlantic Politics & Policy Daily: Jeff's Concessions