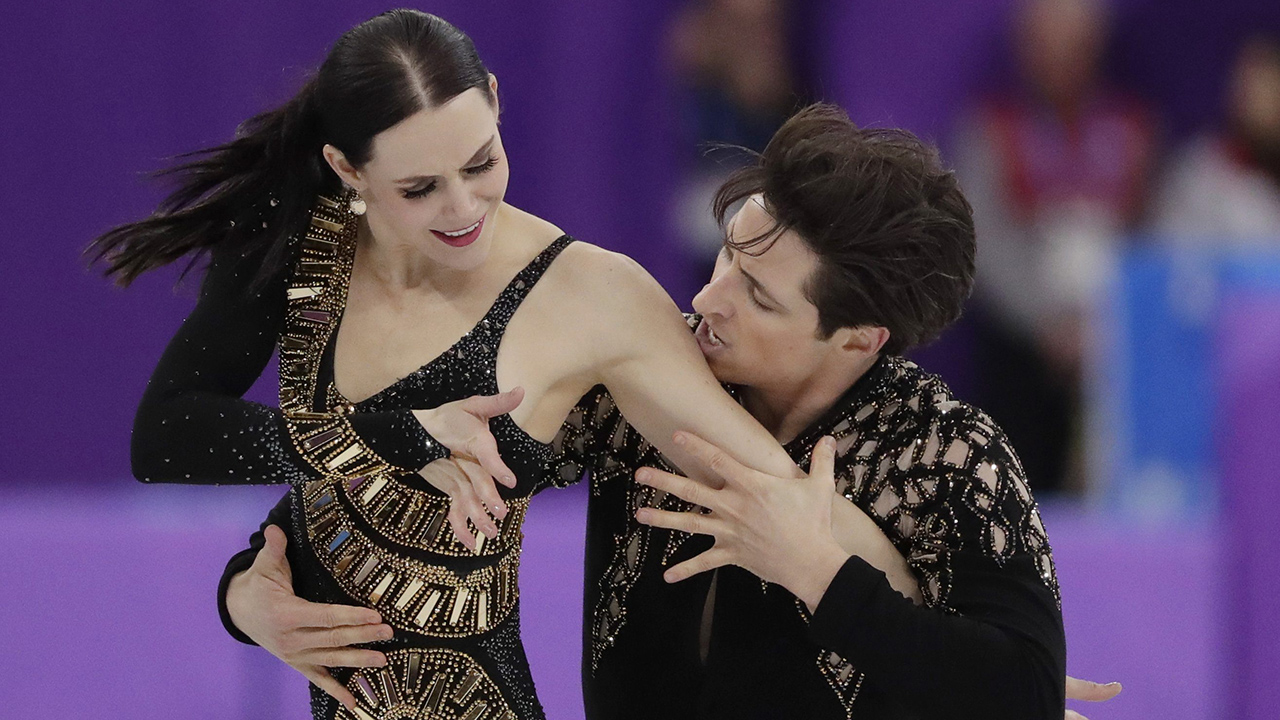 GANGNEUNG, South Korea — "Don't let me down."
OK, it was a joke, but that's what Scott Moir says he usually tells Tessa Virtue, his ice dancing partner of more than two decades, before they take the ice for a big skate.
And the duo that captured Canada's attention in Vancouver eight years ago when they won Olympic gold, and again four years later when they took silver, and again on Friday when they led all of Team Canada into the Olympic stadium to officially open these Games, had one of their final big skates ever on Sunday in South Korea.
Virtue and Moir are off to a good start here, at their third and final Games—and so too is the Canadian figure skating team. The London, Ont.-born duo further separated Canada from the rest of the field in the team event, handily winning the short ice dance program with a synched up performance (featuring twizzles) to the Rolling Stones' Sympathy for the Devil, dressed in black and shimmery gold costumes.
After another first-place finish from two-time world champions Meagan Duhamel and Eric Radford in the pairs, and a third-place finish from world silver medallist Kaetlyn Osmond in the women's singles, Canada is in the gold medal position heading into Day 3's final three skates, and six points ahead of the Olympic Athletes from Russia. (The competition begins at 8 p.m. ET on Sunday.)
In their debut skate here, Virtue and Moir scored 80.41, short of their season-best of 82.68. When the result flashed on the screen, Moir—who'll be the first to admit his facial expressions aren't exactly tough to read—looked a little disappointed. The panel is judging tougher than usual, so far.
Tessa Virtue and Scott Moir of Canada perform during the ice dance short dance team event in the Gangneung Ice Arena at the 2018 Winter Olympics in Gangneung, South Korea, Sunday, Feb. 11, 2018. (Julie Jacobson/AP)
"I think any reaction to scores this early in the competition is just us being perfectionists and wanting to figure out how we maximize points," Virtue says. "We still have a big job to do [on Sunday in the long program] and then again next week, so we're trying not to get too ahead of ourselves, but we're really pleased with that performance."
Four years ago, Canada won silver in the team event. Moir said they weren't all on the same page, some skaters treating …read more
Source:: Sportsnet.ca – Sports news
(Visited 4 times, 1 visits today)
Unified Canadian figure skating team in first and 'sitting pretty'