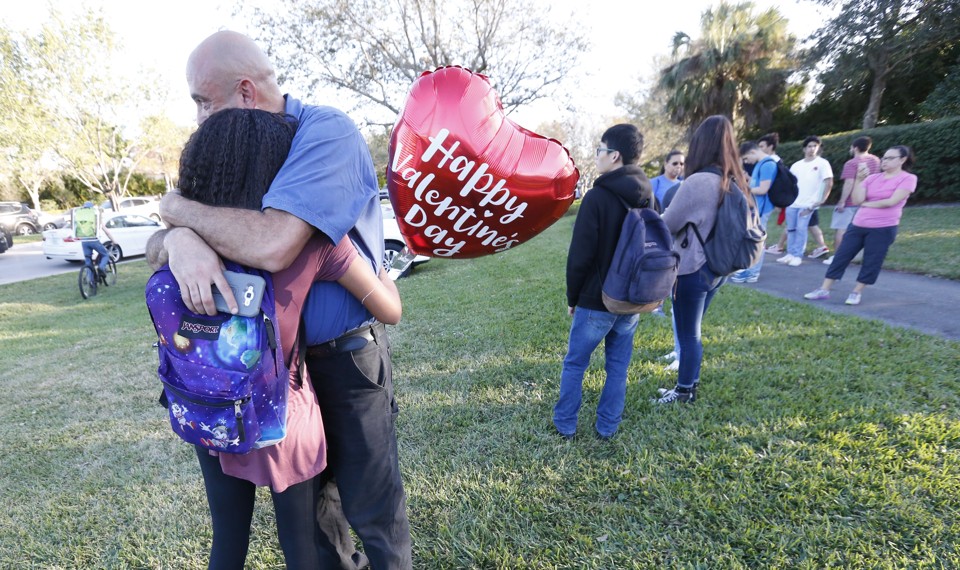 A high-school shooting in Parkland, Florida, on Wednesday afternoon has left up to 17 people dead and numerous others injured, according to officials. The suspect, a 19-year-old former student named Nikolas Cruz who was expelled for unspecified disciplinary reasons, is in custody, according to officials.
As details of the attack emerge, news organizations are engaging in a grim tradition: tallying the massacre on an ever-growing list of school shootings in the U.S., and of mass shootings more generally. The Daily Beast, for example, on Wednesday cited data from Everytown, the gun-control advocacy group, which called it the 59th shooting at or near schools this academic year.
But counting school shootings, and of other types of shootings and incidents of mass violence, isn't a straightforward process. Even The Daily Beast's reference raises the question of whether reporting ought to distinguish between shootings near schools and those in schools. Meanwhile, many oft-cited statistics disregard forms of school violence that may not have involved guns but are similar to shootings in intention or impact. The messiness of counting school shootings often contributes to sensationalizing or oversimplifying a modern trend of mass violence in America that is seemingly becoming more entrenched. Wednesday's news out of South Florida has already spurred a renewed calls for policy changes and other forms of action to prevent future shootings—but such initiatives are informed by the information that's available, and currently, that information is confusing at best and inaccurate at worst.
Even the federal government defines and counts mass shootings in inconsistent and murky ways. Starting in 2008, the FBI limited its definition of mass shootings to a single incident in which a shooter kills four or more people, according to the criminologist Frederic Lemieux, writing in the Chicago Tribune. But in 2013 the agency decided to rely on a definition for an "active shooter" instead of narrowing in on a definition of "mass shootings"; it defined an "active shooter" as a person "actively engaged in killing or attempting to kill people in a confined and populated area." This "active shooter" definition includes incidents in which fewer than four people die. The definition change makes historical study of the issue especially complicated given the variation in what counted as a mass shooting before 2008 and what counts now. Further complicating matters is that, after the 2012 shootings in Newtown, Connecticut, Congress officially defined "mass …read more
Source:: The Atlantic – Best of
(Visited 3 times, 1 visits today)
Another School Shooting—But Who's Counting?