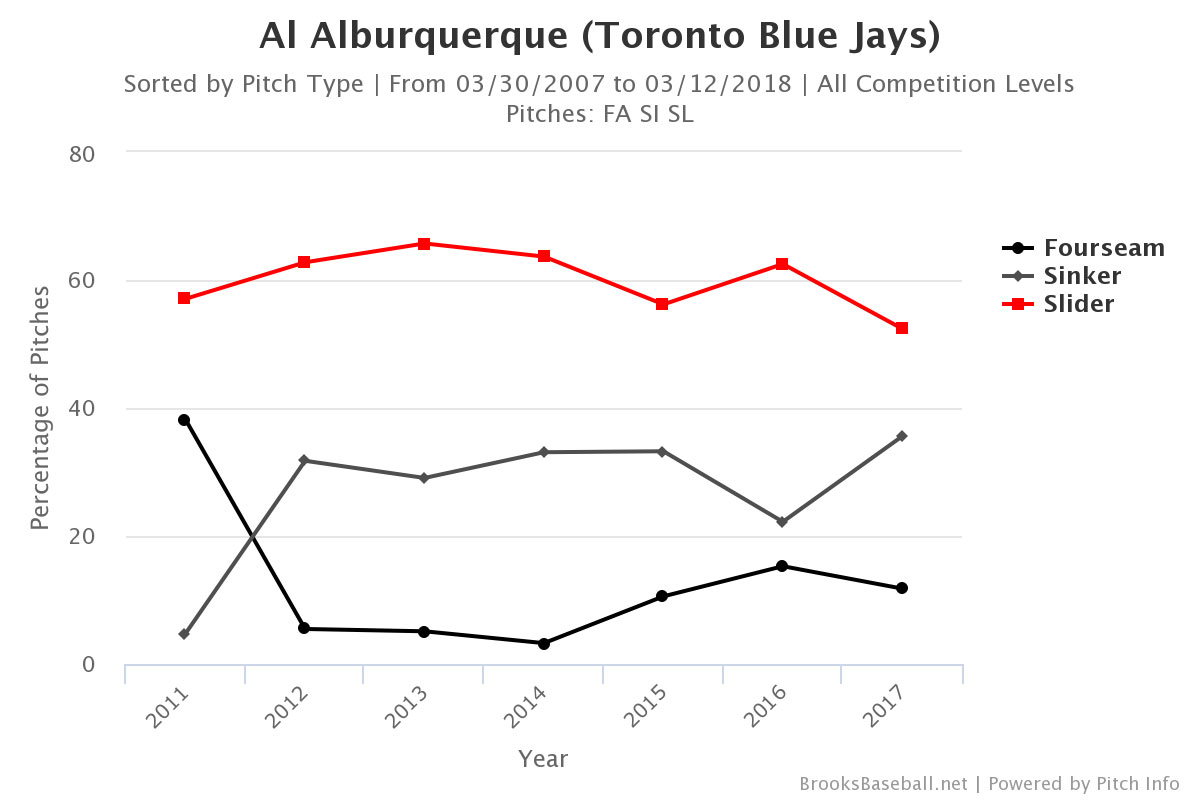 When Al Alburquerque was breaking into professional ball as a 20-year-old Chicago Cubs prospect out of San Pedro de Macoris, Dominican Republic, he spent part of a season pitching for the Northwest League's Boise Hawks. It was short-season A-ball, and the Cubs were flipping Alburquerque between the bullpen and rotation as they tried to determine what he was going to be.
It was a rough time. Alburquerque wasn't having a great year, putting up a 5.83 ERA over 21 appearances. He was playing in front of less than 3,000 fans a night. And his catcher, a 21-year-old Floridian, didn't seem to enjoy catching at all.
That catcher's name was Josh Donaldson.
"No, no, not a good catcher. He didn't like to catch," Alburquerque says now with a laugh. "But I was throwing hard and I didn't know where it was going. So, he helped me at that time. I wasn't easy to catch."
More than a decade later, Donaldson is one of the best third basemen in baseball, and Alburquerque is his teammate again, as he competes for a spot in the Toronto Blue Jays bullpen this spring.
"I feel really good to be here. Some of the best outings in my life I've thrown in Toronto," the now 31-year-old says. "So, I feel really happy working with the organization. They've shown confidence in me. Hopefully I stay healthy and they give me the opportunity to play in Toronto."
After a difficult 2016 and '17, two seasons in which Alburquerque spent the majority of his time at triple-A, the seven-year MLB veteran is hoping a small yet crucial tweak to his repertoire can help get his career back on track — an increased use of his two-seam fastball.
To this point, Alburquerque has been an unusual pitcher in that he's relied extremely heavily on his slider.
He's done that because his slider has been a very effective pitch, earning him whiff rates of 20 per cent or higher in six of his seven MLB seasons. Opposition batters have never hit better than .221 against the pitch in a single season, and batted .167 against it in 2017. It's a difficult offering to square up.
Here's the issue: using that one breaking pitch so often not only makes Alburquerque predictable, it also places great importance on his command. He has to be able to locate that slider for strikes down in the …read more
Source:: Sportsnet.ca – Sports news
(Visited 2 times, 1 visits today)
Al Alburquerque hopes more pitch variety helps restart career