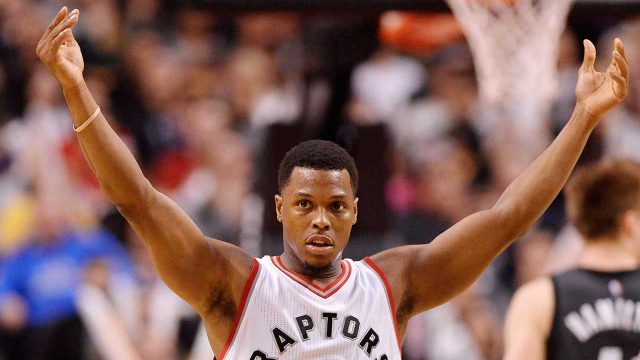 TORONTO — It's painfully played out to start with the weather, but a not insignificant amount of Toronto was covered in a thick layer of ice overnight, tens of thousands lost power, and sheets of jagged ice are literally raining off the CN Tower upon nearby buildings, so here we are.
Delon Wright was one of those who lost electricity Sunday, right as the Utah Jazz and Oklahoma City Thunder were preparing to tip off. Undeterred, the Toronto Raptors point guard headed to a popular establishment near Air Canada Centre to watch the game and charge his phones. When he returned home, the power was still out, and stayed that way until he awoke Monday morning, bundled up like he was portaging Algonquin.
"I just wore my sweater and some sweats," Wright said, shrugging. "It was all right."
We're all getting through it. Beyond warmth, a more pressing concern for Wright going forward will be how the Washington Wizards respond to his exceptional play in the Raptors' 114-106 Game 1 triumph. And how he can go about following it up.
Seeing more run than normal in the absence of Fred VanVleet, Wright posed a serious issue for the Wizards at both ends of the floor Saturday, finishing with 18 points, four assists and three steals.
Toronto Raptors on Sportsnet NOW
Live stream 41 Toronto Raptors games, over 100 other marquee NBA matchups, plus select playoffs and NBA Finals games.
LEARN MORE
No Raptor had a higher usage rate than Wright's 29 per cent, and he led the team with six deflections. Left alone repeatedly beyond the arc, he nailed three of his four three-point attempts, including a pair in the third quarter that helped put the Wizards away.
And one of the game's most pivotal plays, a C.J. Miles three that put the Raptors up five with 6:30 to play after being down by a point a minute and a half earlier, was only possible due to a deft steal by Wright, who ambushed Kelly Oubre under the Wizards basket:
Find the shooter, let him work! pic.twitter.com/EcphHFqJJW
— Toronto Raptors (@Raptors) April 14, 2018
"He played great," said Raptors starting point guard Kyle Lowry. "He's had some games like that this year. Throughout the last couple months, he's been shooting the ball extremely well. Finishing well. Playmaking extremely well. I just think he's getting confident …read more
Source:: Sportsnet.ca – Sports news
(Visited 4 times, 1 visits today)
Raptors' Delon Wright heating up in Fred VanVleet's absence