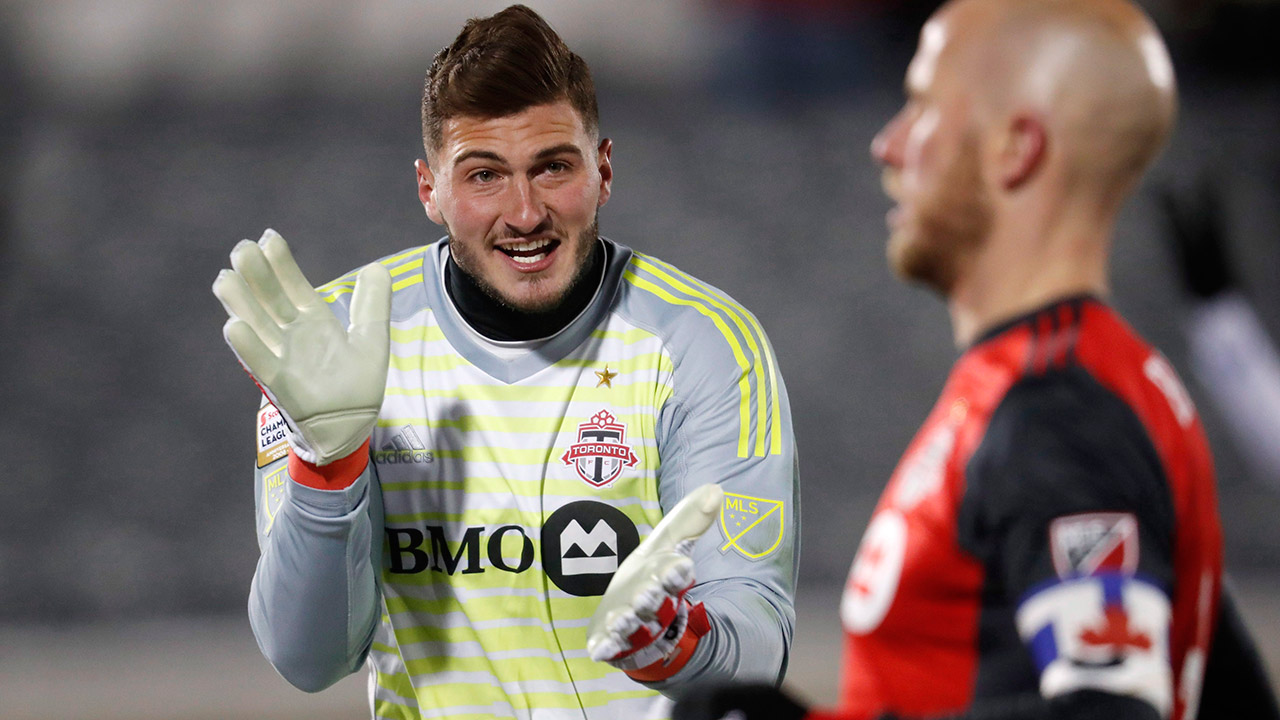 TORONTO – Craig Forrest didn't believe his eyes at first.
He couldn't wait for the live TV broadcast to air the replay, so he pressed stop, then rewind, and then play on his PVR to make sure it actually happened. It did. Toronto FC goalkeeper Alex Bono made a fantastic, fingertip save to deny Club America defender Paul Aguilar of a sure goal from in close.
After watching it over again, Forrest, a former Canadian national team goalkeeper who also played in the Premier League for Ipswich Town, Chelsea and West Ham United, immediately took to social media to post his thoughts on Bono's robbery of Aguilar.
That is one of the best saves I've ever seen!!#TFCLive amazing! The conditions and magnitude of the occasion. Brilliant!!
— Craig Forrest (@craigforrest1) April 11, 2018
Bono's incredible stop turned out to be a pivotal moment for TFC, which went on to earn a 1-1 draw against Club America at Mexico City's iconic Estadio Azteca last week, and advance to the CONCACAF Champions League final. Looking back at it now, Forrest is just as amazed as he was when he saw it live that the Reds goalkeeper managed to tip away Aguilar's powerful header off a sensational cross into the box from teammate Andres Ibarguen.
"I jumped out of my seat. I was like, 'Hold on a minute. I gotta rewind that,' because I had to see that again. It was a perfect setup by Club America: The pace of the cross, where [Ibarguen] put it, Aguilar's positioning, the power of the header, perfect height, eight yards out and when Aguilar made contact with it Bono was a yard off his line. He hit into the ground with Bono moving over to his left and at full stretch, it was a sure goal," Forrest marvelled.
Not only did Bono make a remarkable save on Aguilar, but he also didn't give up a rebound. Instead, he managed to tip the ball to teammate Gregory van der Wiel who knocked it out for a throw in.
"I don't know if that was his intention; maybe he was just trying to get a strong hand on it. But the fact he was able to play it out of danger, that made the save even more impressive," Forrest explained.
"With the pace on the header, it would've been something for Bono to just get his finger …read more
Source:: Sportsnet.ca – Sports news
(Visited 1 times, 1 visits today)
tfc toronto fc alex bono concacaf champions league mls major league soccer chivas guadalajara