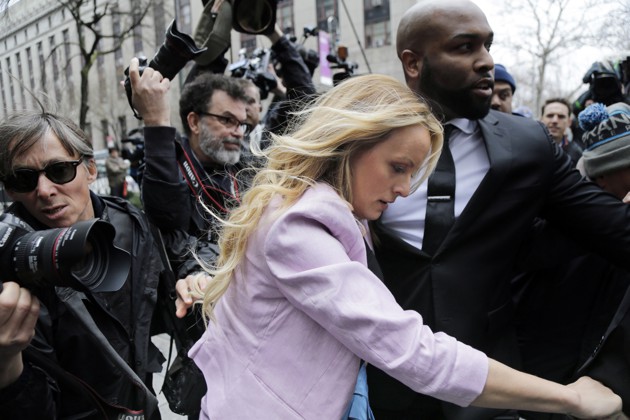 Today in 5 Lines
During a court hearing in Manhattan, Fox News host Sean Hannity was revealed as a client of President Trump's personal lawyer, Michael Cohen. Cohen's attorneys are seeking a temporary restraining order to stop the government from reviewing documents seized in last week's FBI raids on Cohen's home, office, and hotel room.
President Trump reportedly halted a preliminary plan to impose additional sanctions on Russia, backpedaling an announcement from UN Ambassador Nikki Haley.
The Government Accountability Office concluded that the Environmental Protection Agency violated federal law when it spent more than $43,000 to install a private phone booth in Administrator Scott Pruitt's office.
Seven prison inmates were killed during fights that broke out overnight at Lee Correctional Institution in Lee County, South Carolina.
Desiree Linden won the Boston Marathon, the first American woman to do so since 1985.
Today on The Atlantic
The View From Inside: Sunday's ABC interview with former FBI Director James Comey captured the surrealism that has pervaded American politics for the last two years. (David A. Graham)
'Unfit to Command': America will soon face larger military decisions than whether to strike Syria, and President Trump is in no state to make them, writes David Frum: "He seethes with rage and resentment for all the world to view—and those emotions are visibly distorting his decision-making."
Combating the Opioid Epidemic: In 1995, France made a policy change that led to a reduction in heroin overdoses by 79 percent. The U.S. could, too. (Olga Khazan)
How Did Syria End Up Like This?: It all started with a little graffiti. (Andrew Tabler)
SnapshotStormy Daniels arrives at federal court in New York to attend a hearing where a federal judge is considering how to review materials that the FBI seized from President Donald Trump's personal lawyer to determine whether they should be protected by attorney-client privilege. Seth Wenig / AP
What We're Reading
A Victory for Trump: Friday night's strikes against the Assad regime show that the president enforced the red line former President Obama would not—and that's worth celebrating. (Lauren Fish, National Review)
Why Not Joe?: Joe Biden is leading the Democratic 2020 presidential field in early polls. The problem is, the former vice president no longer seems like a good fit for the party. (Charlie Mahtesian, Politico)
The Mysterious Dan Scavino: The president's social-media director is now the longest-serving Trump employee in the White House. But
Source:: <a href=https://www.theatlantic.com/politics/archive/2018/04/the-atlantic-politics-policy-daily-dont-know-what-you-got-till-its-sean/558179/?utm_source=feed target="_blank" title="The Atlantic Politics & Policy Daily: Don't Know What You Got (Till It's Sean)" >The Atlantic – Best of
(Visited 1 times, 1 visits today)
The Atlantic Politics & Policy Daily: Don't Know What You Got (Till It's Sean)