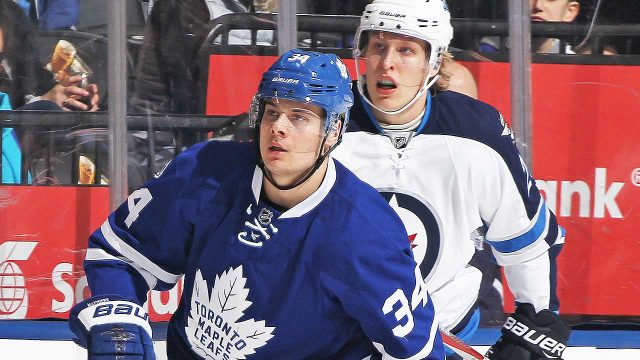 ST. PAUL, Minn. – The depth of the Winnipeg Jets blue line is about to get tested.
Next to Dustin Byfuglien, Tyler Myers has been the Jets' most impactful defenceman in this series, and he walked out of Xcel Energy Center with a slight limp Sunday night after the Minnesota Wild trounced their visitors 6-2.
Injury to insult.
Jets coach Paul Maurice only said he "didn't love" the play that knocked his 18-minute guy out of Game 3 and expected the league to look at it because, hey, it looks at everything.
Myers' undisclosed lower-body injury was sustained during an sloppy-looking collision. Checking winger Marcus Foligno was rushing to Myers' point when he stumbled and his fist hit the back of Myers' knee, causing the lanky defender to crumple awkwardly feet-first into the boards.
Foligno said Monday that he's watched the collision 100 times and maintained no ill intent.
"I'm going down for a blocked shot, and I think he's going by me and he pulls up at the last second. I stumble, and I mean I guess I catch him on the way down. It was kind of a freak accident," said Foligno, who leads all Wild skaters in hits.
"I played with him in Buffalo. I mean, we're not friends over the playoffs, but we are friends off the ice, and it's something I wouldn't do to a friend, so it's all good."
Stanley Cup Playoffs on Sportsnet NOW
Livestream every single game of the 2018 Stanley Cup Playoffs—blackout free—plus the Toronto Blue Jays, key Raptors & NBA Playoffs matchups and the 100th Mastercard Memorial Cup, all in one subscription.
SIGN UP
It's less than good for Winnipeg, which is already dealing with injuries to regular blueliners Dmitry Kulikov and Tobias Enstrom. Tucker Poolman, 24, is the likely next man up. He's played all of 24 career NHL games.
Winnipeg has no update on the severity of Myers' injury, which has some diehard Jets fans calling foul. (Jets centre Adam Lowry dismissed it as an "awkward" play with no intent to injure, and we tend to agree.)
"He fell. Anybody that thinks anything different, that there was something to it, is trying to create something that's not there," Wild coach Bruce Boudreau said. "[Foligno] went to …read more
Source:: Sportsnet.ca – Sports news
(Visited 4 times, 1 visits today)
Tyler Myers' 'freak accident' will test Jets' defensive depth