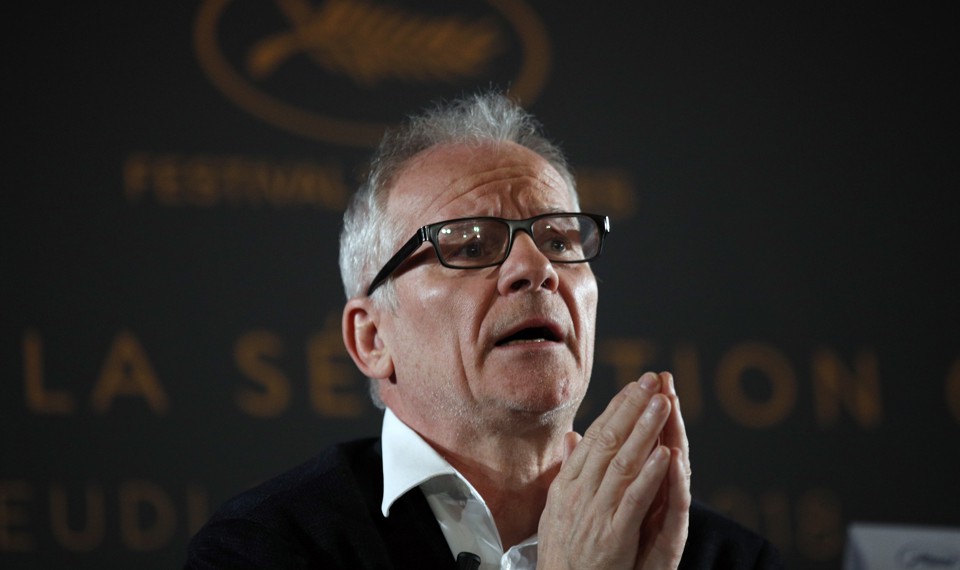 The ongoing publicity battle between one of cinema's hoariest institutions (the Cannes Film Festival) and its loudest new "disruptor" (Netflix) is a standoff where it's tough to really sympathize with either side. Last year, after some internal uproar over the presence of Netflix's Okja and The Meyerowitz Stories (New and Selected) at Cannes, the festival announced it would require all competition titles to receive theatrical distribution in France going forward. This year, the Cannes director Thierry Fremaux stuck to that edict. In response, Netflix pulled all its movies from the 2018 festival—even the out-of-competition premieres unaffected by the rule change.
Demanding a theatrical run for a Cannes entrant may not sound like an especially strict requirement. Netflix releases many of its original films, like the aforementioned Okja and Meyerowitz Stories, in U.S. theaters so they can qualify for Oscars consideration. But France has much tougher release criteria—films aren't allowed to appear on streaming platforms for three years after screening in cinemas. That runs so counter to Netflix's model (which puts movies in theaters and online for subscribers on the same day) that it's tough to imagine a compromise that doesn't involve France changing its law.
As extreme as the country's distribution regulations might seem, however, the central conflict isn't that much different than the Stateside debate over Netflix. By putting its movies online immediately, the streaming service represents an existential threat to the French theater industry's business; the Cannes rule change is just the latter's mode of resistance (as the festival director, Fremaux is under tremendous pressure from French exhibitors). In announcing his decision to pull the company from Cannes, which is widely viewed as the world's most prestigious film festival, Netflix's chief content officer Ted Sarandos framed it to Variety as a battle between cinema's past and future.
"The rule was implicitly about Netflix, and Thierry made it explicitly about Netflix when he announced the rule," Sarandos said. "The festival has chosen to celebrate distribution rather than the art of cinema … we are choosing to be about the future of cinema. If Cannes is choosing to be stuck in the history of cinema, that's fine." Sarandos called the rule "punitive" and one that "[defines] art by the business model." Of course, that's something Netflix has been guilty of as well: Though it sometimes offers limited theatrical runs, the company mostly uses its original films as a …read more
Source:: The Atlantic – Best of
(Visited 4 times, 1 visits today)
What's at Stake in Cannes's Battle With Netflix