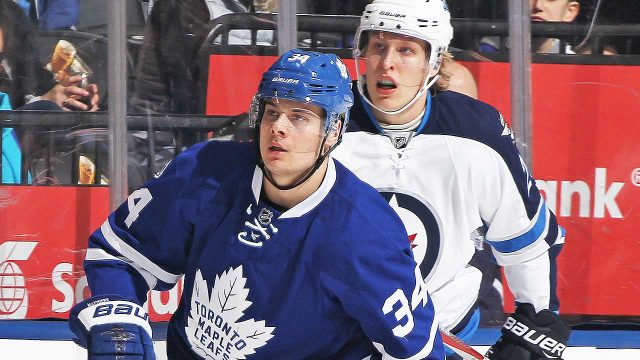 TORONTO – If the playoffs had ended last weekend, it would have been possible that the Conn Smythe Trophy voting would for the first time end up in a three-way tie, such had been the dominance of the Boston Bruins' line of Brad Marchard, Patrice Pergeron and David Pastrnak in consecutive victories over the Toronto Maple Leafs in Boston.
A combined 20 points in two thumpings of Toronto: Those who selected them are leading your playoff pool and probably spent all day Monday reminding you of it.
However, the Leafs' 4-2 victory over Boston Monday night in Game 3 at the ACC opened up the race for the Conn Smythe. More than that, it demonstrated the efficacy of the Leafs' strategy to combat a line that, all things considered, was arguably the league's best this season.
Boil it down to this: If you can play the Bruins' top line even, you have half a chance – and, if you do better than that, it's gravy.
Now you can't be blamed if you didn't see it coming – the Marchand-Bergeron-Pastrnak troika looked like a juggernaut in those first two games. And it looked more unlikely when Leafs coach Mike Babcock announced his starting lineup. Of course, the Bruins were going to send their first line out there – if it ain't broke, don't fix it and, if it's wrecking them, double down on the status quo.
Stanley Cup Playoffs on Sportsnet NOW
Livestream every single game of the 2018 Stanley Cup Playoffs—blackout free—plus the Toronto Blue Jays, key Raptors & NBA Playoffs matchups and the 100th Mastercard Memorial Cup, all in one subscription.
SIGN UP
The Leafs' antidote was an unlikely one up front, namely the line of Patrick Marleau, Tomas Plekanec and Mitch Marner. Among them Plekanec was the most unlikely, given that he really hasn't shown much at all since coming over to the Leafs from the Montreal Canadiens in February.
On the back end, a more predictable desire matchup for Babcock: the pairing of Morgan Rielly and Ron Hainsey. (That was process of elimination, mind you, given the painful-to-watch struggles of Nikita Zaitsev in Boston.)
You can't be blamed for thinking that Babcock had sent Plekanec on a futile mission of marking Bergeron, …read more
Source:: Sportsnet.ca – Sports news
(Visited 3 times, 1 visits today)
Maple Leafs find antidote for Bruins' powerful top line in Game 3