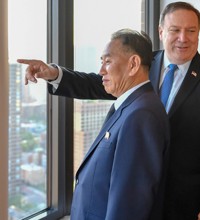 "A Story of Opportunity for North Korea," the four-minute movie trailer that Donald Trump showed Kim Jong Un when the two leaders met this week in Singapore, is a prime example of the new, quintessentially Trumpian ideas that the president is implementing to try and finally resolve the old challenge of denuclearizing North Korea. But there's one main problem with it. (I'm setting aside the fact that Trump apparently kinda sorta threatened North Korea with war via iPad during their negotiations. The narrator of the trailer presents Kim with a stark choice: Trade in his nuclear weapons for a peace-and-prosperity deal with the U.S. or decline to do so, at which point ominous images evoking explosions flash across the screen.) If the video reflects the Trump administration's core sales pitch to North Korea on why it should give up its nuclear arsenal, it's not clear that the North is buying what the United States is selling.
The film conjures the future of "friendship, respect, and goodwill" that awaits Kim Jong Un on the other side of a nuclear agreement. It's a "new world" of high-speed trains, hydroelectric dams, and glowing urban skylines, "where the doors of opportunity are ready to be open, investment from around the world, where you can have medical breakthroughs, an abundance of resources, innovative technology, and new discoveries. What if?" the narrator wonders. Punctuating the pitch are visuals of construction cranes, a stock ticker, a delivery drone, a marina and beachside buildings, even footage of Donald Trump and Kim Jong Un projected onto massive billboards in Manhattan.
During a conference call with reporters on Tuesday, Mike Green of the Center for Strategic and International Studies compared the video, which was made by Trump's National Security Council, to promotional material that a real-estate developer might use to get potential investors excited about plans for a theme park or building complex. But an approach that might have worked for Trump with investors back in New York isn't likely to have worked with North Korean officials who consider foreign investment a threat, argued Green, an Asia expert who participated in nuclear talks with the North Koreans while serving on George W. Bush's National Security Council.
The video "shows pretty much zero understanding of how [North Korean leaders] think about the economy, which is at most perhaps a Potemkin village-like availability for the elite to go to McDonald's and Starbucks," …read more
Source:: The Atlantic – Best of
(Visited 4 times, 1 visits today)
About That Movie Trailer Donald Trump Gave Kim Jong Un