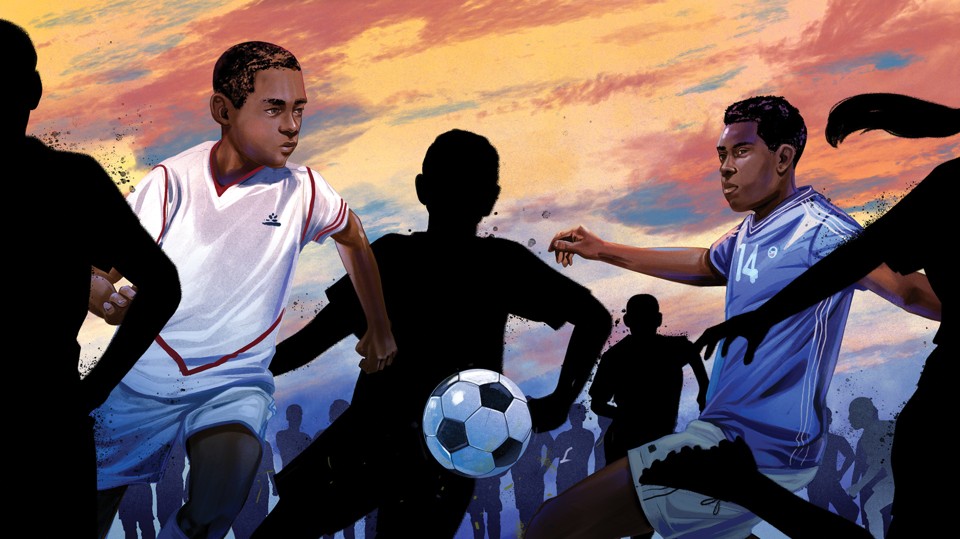 In 2001, Nadia Nadim, a 12-year-old Afghan girl living with her mother and sisters in a Danish refugee center, looked up and noticed a soccer ball in the branches of a tree. On the other side of a nearby fence were lush soccer fields where youth teams from the local town practiced. Players sometimes sent balls flying into the woods near the center. Spotting more, Nadim and her friends shook the trees and threw some of the balls back over the fence. They kept a few older ones so they could play, too.
As Gwendolyn Oxenham writes in Under the Lights and in the Dark: Untold Stories of Women's Soccer, Nadim played with friends and by herself, juggling the ball for hours. Eventually she approached the coach in the town fields, and he invited her to join his team. In her first game, she scored three goals. From there, a string of youth coaches nurtured her talent. She graduated from high school and college, and eventually attended medical school; she also became a professional soccer player. Today, she is a star of the Danish national team and, after becoming a member of the Portland Thorns, one of the top women's professional teams in the United States, now plays for Manchester City, in England.
Bernard Appiah grew up in Teshie, a poor seaside town near Accra, Ghana. He played soccer constantly as a young boy, and when he was about 8, a coach recruited him to a local team. The team had 50 players but only two soccer balls, so, as Sebastian Abbot writes in The Away Game: The Epic Search for Soccer's Next Superstars, they spent much of their time in practice "simply running around in the dust." Appiah outplayed everyone, earning the nickname "The Tornado." Soon after, another local coach recruited him to a better team, one with proper equipment and a good practice field, hoping to nurture his talent for a professional career in Ghana or abroad in Europe.
In 2007, a Spanish coach named Josep Colomer came to Teshie on a first-of-its-kind tour of Africa in search of the best young players he could find. On offer were three scholarships to Aspire Academy, a lavishly endowed new soccer-training program in Qatar that boasted a stadium, six fields, and speakers that piped in "the sounds of birds chirping throughout the day." Appiah, at that point a young teen, …read more
Source:: The Atlantic – Best of
(Visited 3 times, 1 visits today)
How Not to Scout for Soccer Talent