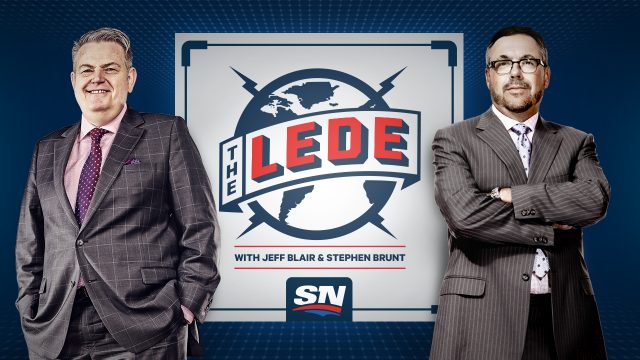 Atlanta Braves GM and executive VP Alex Anthopoulos joins Jeff and Stephen in studio to discuss his current contender, his time in Toronto and how he turned the Blue Jays into a powerhouse, the similarities running the two franchises, and how MLB front offices plan for the future. Audio credits to Xave Ruth, Fox Sports South and MLB TV.
The Lede
Each week, Jeff Blair and Stephen Brunt tackle the most impactful stories in the world of sports and their intersection with popular culture. Come for the sports; stay for the storytelling and cigars.
Apple Podcasts
| Podcatchers
| Listen Now
OPEN – Jeff and Stephen introduce Alex Anthopoulos from his days in Montreal to leading the Blue Jays to the playoffs to helping the Dodgers to the World Series to now running the show in Atlanta.
10:00 – Alex Anthopoulos joins Stephen and Jeff in-studio
11:30 – Are you surprised to see the Braves a couple of years ahead of schedule?
15:05 – How the city's reacting to the Braves sitting atop of the NL East.
19:20 – What are the similarities/differences between Braves ownership and Blue Jays ownership?
"I think this whole narrative that corporate ownership is brutal, terrible and they don't spent money. I think it's complete BS. They give you so much autonomy. So much freedom." – Anthopoulos
25:50 – When you heard that Paul Beeston going to replaced as the president of the Jays, does 2015 then become an all-in year?
Toronto Blue Jays on Sportsnet NOW
Livestream the Toronto Blue Jays on the most popular devices. Plus, get over 150 marquee MLB matchups, the Home Run Derby, All-Star Game and Postseason.
SIGN UP NOW
30:30 – Was the Troy Tulowitzki deal an overreach?
33:45 – Is it difficult to be the GM of the team that gave your childhood club, the Montreal Expos, a hard time year after year?
37:55 – What's the challenge in rebuilding a baseball club?
[radioclip id=4121935]
Source:: Sportsnet.ca – Sports news
(Visited 3 times, 1 visits today)
The Lede: Alex Anthopoulos on moving to Braves, time with Blue Jays