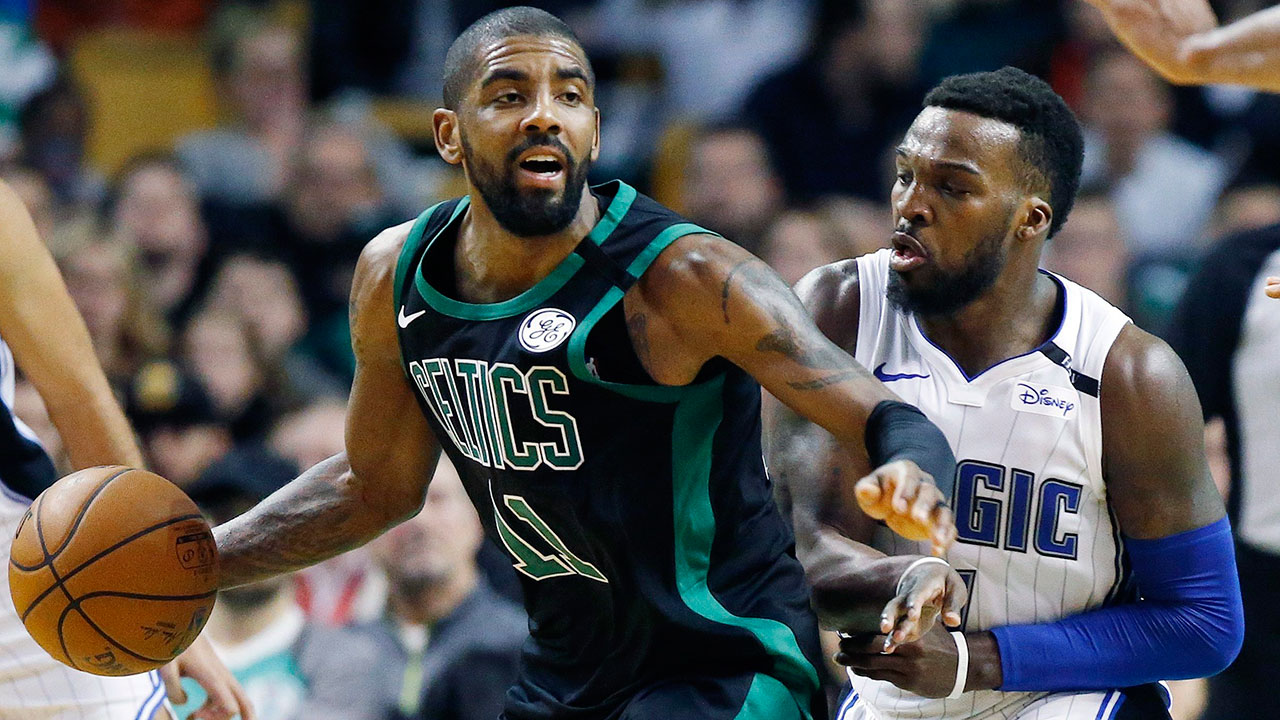 The King of the East is journeying to the West.
Yes, LeBron James will be a Los Angeles Laker and will be forced to battle the demons of the NBA's Western Conference after saying goodbye to his Eastern Conference family.
But as James traverses the dangers of the West, it leaves an entire conference open and free from what has been an eight-year run of dominance.
With James leaving the East, there's suddenly hope for teams in the conference that came up short for so many years now.
The throne is empty now and that means new rulership can be established. So, with that in mind, here's a look at the most likely teams, in order, to succeed the Eastern Conference's crown this coming season.
1. Boston Celtics
Boston Celtics' Kyrie Irving (11). (Michael Dwyer/AP)
The Celtics had James' Cavaliers on the brink of elimination in the conference finals, and then proceeded to squander away Games 6 and 7 thanks in large part to James' brilliance.
That scenario won't be happening again next season, and when you consider the fact superstar guard Kyrie Irving had to miss the entire post-season with injury and the Celtics still performed the way they did, it's tough not think of this team as anything but the East's class.
Restricted free agent guard Marcus Smart is still business Boston needs to take care of, but even if the Celtics can't bring him back, the post-season emergence of other young players like Jayson Tatum, Jaylen Brown and Terry Rozier should have the rest of the conference absolutely terrified.
Plus, the impact of Gordon Hayward's return for this coming season shouldn't be overstated, either. He only played five minutes for Boston last season, so him coming back healthy will be just like getting a shiny new max-level free agent all over again.
The East should be considered the Celtics' to lose.
2. Toronto Raptors
Toronto Raptors guard Kyle Lowry (7) and teammate DeMar DeRozan (10) celebrate a basket during first half NBA basketball action against the Washington Wizards, in Toronto on Tuesday, April 17, 2018. (Nathan Denette/CP)
While perception of the Raptors is deservedly low these days, it doesn't erase the fact this was a team that won 59 games last season and looks to be bringing back everyone that helped accomplish that, minus head coach Dwane Casey.
It's also a fact that Toronto had only lost …read more
Source:: Sportsnet.ca – Sports news
(Visited 2 times, 1 visits today)
NBA Eastern Conference Rankings: Who rises to LeBron's throne?