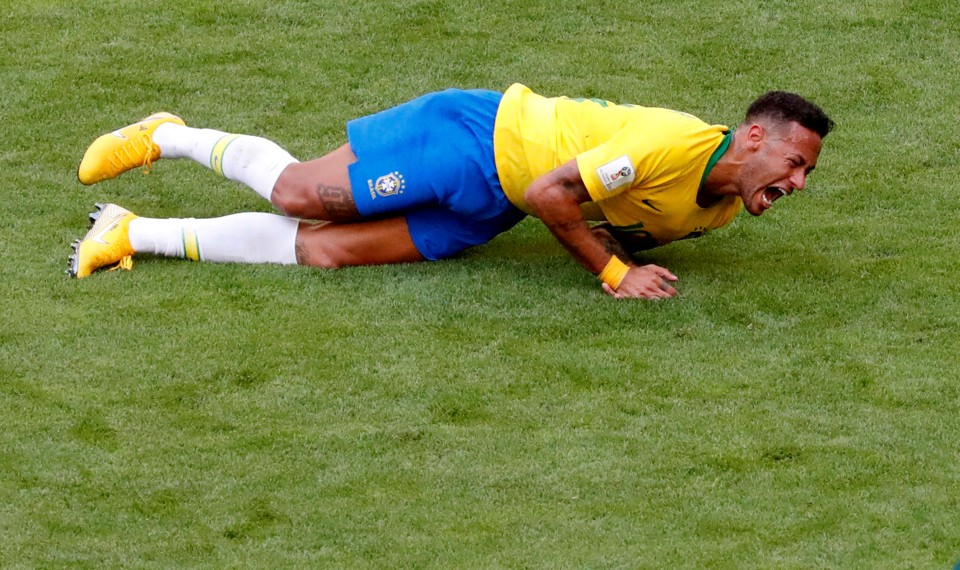 There's one transcendent player left at this World Cup, a player who the eye irresistibly trails as he moves across the pitch—and, if you've ever seen him, you probably hate him.
Or at least, you're being trained to hate him. Neymar da Silva Santos Júnior, of Brazil, is the sort of human being that English and American soccer pundits, schooled in the cult of manly stoicism and prone to self-righteous sermons about fair play, were born to disdain. And after his overwrought performance in the game that vanquished Mexico on Monday, Neymar hatred has traveled quite a bit farther than that. The Brazilian newspaper Globo ran the accurate headline, "Neymar has charmed Brazil, but annoyed the whole world."
Well, the whole world is wrong.
But here's what allegedly ticks them off: Neymar's critics despise his theatrical writhing on the ground after a breeze brushes his neck; they mock his protean hair, which he has restyled four times in the last two weeks. (To be fair, he began the tournament, looking, as some observers noted, like he had artfully arrayed a packet of raw ramen on his scalp.) When Neymar touches the ball, he will often ignore the fact the field is filled with teammates of the highest caliber—and that expediance would dictate that he pass to them. The words you hear most often associated with Neymar are antics and adolescent.
But this World Cup is a moment to concede the obvious: The duopoly of Cristiano Ronaldo and Lionel Messi that has ruled the global game for the last decade is in its late era. At this tournament, both Messi and Ronaldo disappeared in their country's pivotal game. They looked exhausted and bereft of the creativity and audacity that has defined their careers. We can forgive this. The World Cup is a spectacle that tests the body, coming at the end of a long season and taking place in summer conditions inhospitable to an endurance sport like soccer.
Yet, Ronaldo and Messi are gone and here's Neymar carrying the team now favored to win the World Cup—a team that, by all appearances, respectfully defers to his genius and takes genuine pleasure in his success. Against Mexico, one of his deflected shots was knocked into the net by his teammate, Roberto Firmino. Breaking with the conventions of goal celebrations, Brazil rushed to embrace and pile on …read more
Source:: The Atlantic – Best of
(Visited 11 times, 1 visits today)
The Annoying Genius Who Makes the World Cup Worth Watching