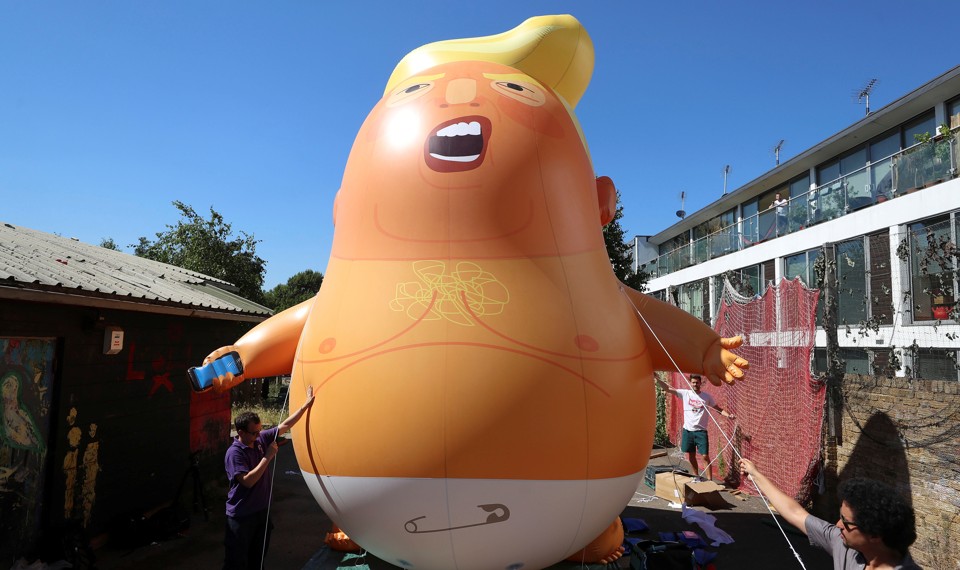 LONDON—Peacetime visits by United States presidents are usually celebratory affairs. They're opportunities for host countries to show off a little, to polish the silver and bring out the marching bands, to assert their place in the world and in the eyes of the United States. President Trump's visit to Britain—which kicked off Thursday afternoon and will include meetings with Prime Minister Theresa May, a gala dinner with business leaders at Winston Churchill's birthplace, and a tea with Queen Elizabeth at Windsor Palace, before the president heads off to one of his golf courses in Scotland for the weekend—could not be more different.
And it could not have come at a worse time. Announced last year and planned so that Trump will largely avoid central London and the big anti-Trump demonstrations expected, the visit is less a triumphant celebration of the "special relationship" between two longstanding allies and more an exercise in damage control. May's conservative government is in turmoil after the resignation this week of two key cabinet members, including foreign secretary Boris Johnson, a Trump admirer, over differences on how to handle the colossal mess that is Brexit. Trump has been shaking up NATO and threatening a trade war with Europe. On Wednesday, England flamed out of the World Cup. Last week, a British citizen died after being exposed to the nerve agent Novichok, collateral damage after the assassination attempt on a former Russian spy, which the British government says is the work of Russia. (Trump is to meet Vladimir Putin in Helsinki on Monday.)
What could possibly go wrong?
"Historically, British politicians have basked in the reflected glory of U.S. presidents, going back to Thatcher and Reagan. Obama was such a rock star, particularly with people in government who were all desperate to be seen and look relaxed with him," said Stig Abell, the editor and publisher of the Times Literary Supplement. "With Trump they just want to finish it without anything too bad happening. The Royal Family want to get it done without it being embarrassing. The government don't want him to be caught in protests. They don't want anything where he'll come back and tweet about how appalled he is about Britain."
Trump's arrival in London on Thursday afternoon interrupted a day of national wallowing. All morning, the BBC, seeming to find a certain morose pleasure in self-flagellation, played images on repeat of England's …read more
Source:: The Atlantic – Best of
(Visited 4 times, 1 visits today)
Trump's London Visit Is the Normalization of Abnormality