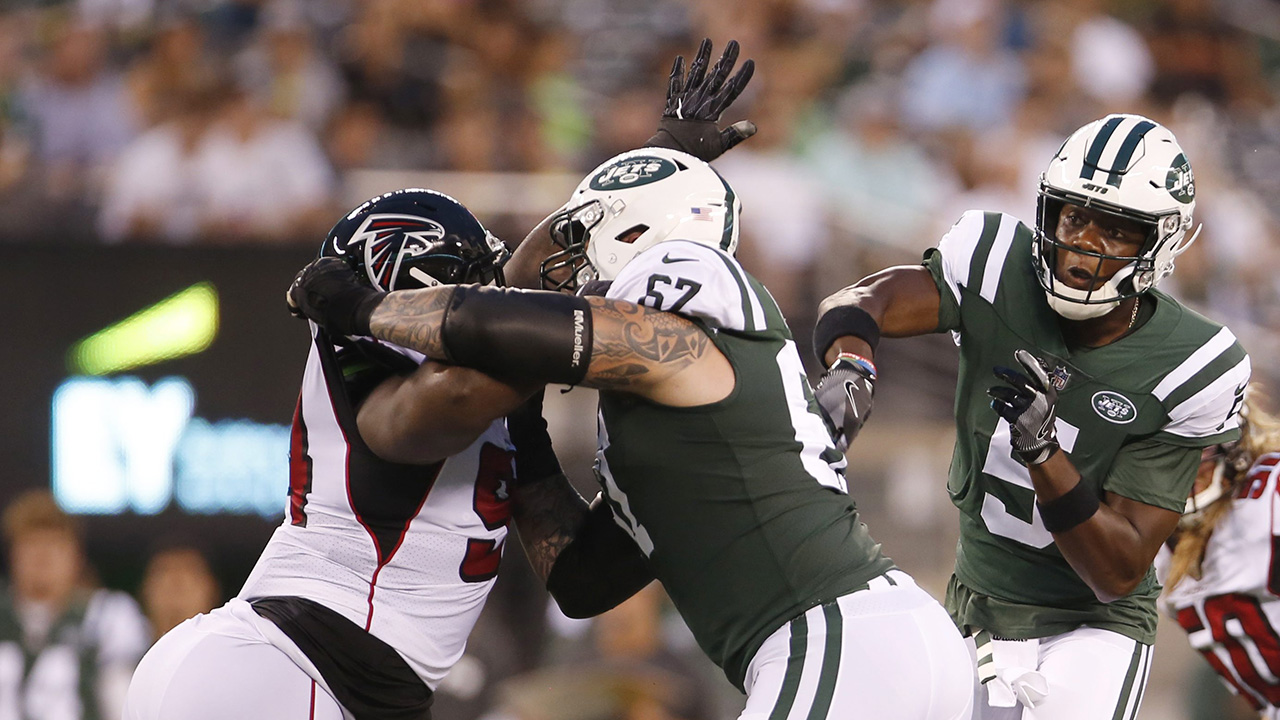 EAST RUTHERFORD, N.J. — Sam Darnold sparkled in his NFL debut, Teddy Bridgewater looked sharp and healthy, and the New York Jets earned the franchise's first preseason home shutout by beating the sluggish Atlanta Falcons 17-0 on Friday night.
Darnold, the No. 3 overall draft pick in April, was the Jets' third quarterback of the game, following Josh McCown and Bridgewater. The former USC star was greeted by loud cheers and a standing ovation as he jogged onto the field at MetLife Stadium with 8:41 to go in the first half.
Darnold's first series ended in a punt and his non-throwing left hand was checked out by trainers on the sideline after it was stepped on. But he was fine and wore a glove in the second half.
He got the crowd on its feet again just before halftime, throwing a 14-yard touchdown pass to Charles Johnson that gave New York a 17-0 lead.
The 21-year-old Darnold showed the poise of a veteran on the drive while completing six straight passes to get to the Falcons 3. He would've had a seventh consecutive completion, but his throw into the end zone was dropped by Johnson. Darnold went right back to Johnson on the next play, and the receiver caught a 3-yard pass for a TD — but was called for offensive pass interference.
On third-and-14, Darnold again threw to Johnson while rolling to his right and zipping in a pass for the score.
Darnold, who finished 13 of 18 for 96 yards, missed the first three days of training camp before his representatives and the Jets agreed on a fully guaranteed four-year, $30.25 million deal that included a $20 million signing bonus. He quickly made up for the missed time, and is being given every opportunity to win the starting job.
McCown is the incumbent and started the game, but played just one series — as he did last summer when New York wanted extended looks at Bryce Petty and Christian Hackenberg. The 39-year-old veteran completed his only throw, a 4-yard toss to Neal Sterling.
TEDDY'S NIGHT
Bridgewater came out with the starting offence for the Jets' second possession and led New York down the field on a scoring drive, capped by Isaiah …read more
Source:: Sportsnet.ca – Sports news
(Visited 2 times, 1 visits today)
Darnold shines, Bridgewater sharp as Jets top Falcons