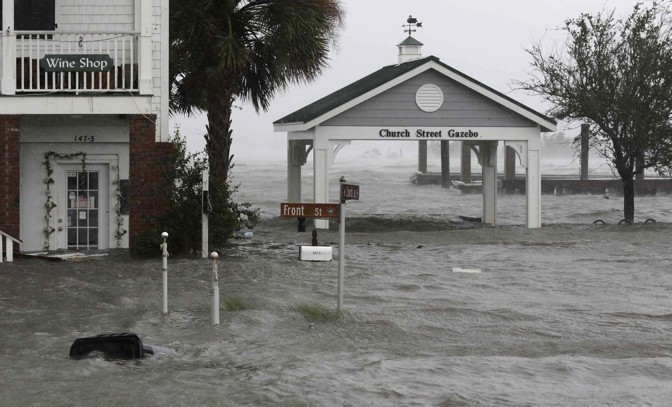 Written by Madeleine Carlisle (@maddiecarlisle2) and Olivia Paschal (@oliviacpaschal)
Today in 5 Lines
Paul Manafort, President Trump's former campaign chairman, pleaded guilty to two criminal charges and agreed to cooperate with Special Counsel Robert Mueller's investigation into Russian interference in the 2016 election.
Hurricane Florence made landfall on the North Carolina coast as a Category 1 storm. According to officials, at least four people have died, and more than half a million are without power.
An unidentified woman accused Supreme Court nominee Brett Kavanaugh of assaulting her when they were in high school, according to The New Yorker. Kavanaugh denied the allegation in a statement.
Investigators believe an over-pressurized gas main was to blame for a series of gas explosions that killed a teenager and damaged dozens of homes in three Massachusetts towns Thursday night.
Super Typhoon Mangkhut, the equivalent of a Category 5 hurricane, slammed into the Philippines after thousands were evacuated. More than four million people are in the path of the storm.
Today on The Atlantic
What Manafort Knows: Former Trump campaign chairman Paul Manafort agreed to cooperate with Special Counsel Robert Mueller on Friday. His decision could clarify several of the biggest mysteries of the Russia investigation. (Franklin Foer)
The Brooklyn Beat: Most of New York's remaining daily newspapers have stopped covering Brooklyn because of staff cuts and a lack of resources, leaving Bklyner magazine and its staff of four journalists scrambling to cover a borough of 2.6 million people. (Scott Nover)
What You See Is What You Get: Rudy Giuliani's perplexing comments in defense of President Trump have led some to argue that the former mayor has "plummeted from greatness." Not so, writes Dick Polman: "He is who he always was."
Cuomo's Silence: New York Governor Andrew Cuomo's campaign didn't bother releasing a statement after his landslide win against Cynthia Nixon. It was the final power move in a campaign filled with them, writes Russell Berman.
How Will Police Solve Murders on Mars?: Investigators will have a slew of challenges to overcome, like new blood-spatter patterns and different body decay rates. (Geoff Manaugh)
SnapshotHigh winds and water surround buildings as Hurricane Florence hits Front Street in downtown Swansboro, North Carolina. (Tom Copeland / AP)What We're Reading
What Cynthia Nixon Did: Even though the actress-turned-activist lost New York's gubernatorial primary, her candidacy helped start a conversation about what it takes to be a leader …read more
Source:: <a href=https://www.theatlantic.com/politics/archive/2018/09/the-atlantic-politics-policy-daily-manafort-destiny/570382/?utm_source=feed target="_blank" title="The Atlantic Politics & Policy Daily: Manafort Destiny" >The Atlantic – Best of
(Visited 3 times, 1 visits today)
The Atlantic Politics & Policy Daily: Manafort Destiny