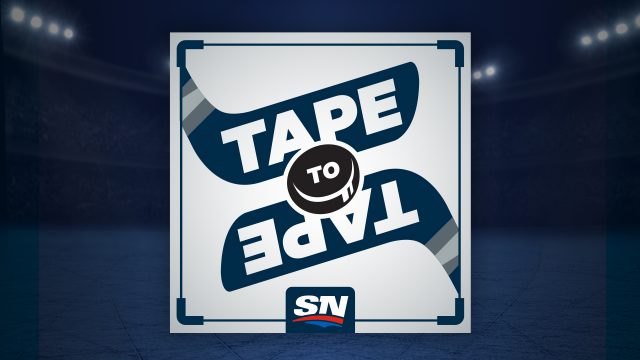 TORONTO – Restless with the uncertainty, the goalie had difficulty even sleeping in until 7 a.m. Monday morning.
He was antsy to get to the practice facility as quickly as possible and check the lineup board.
So, naturally, it was a rush to see that, yes, his name was on it: Garret Sparks, member of the Toronto Maple Leafs' opening night roster.
"There were a couple times I didn't think it would happen. That's what makes this even sweeter," Sparks said after the Leafs' first practice as a slimmed-down 23-man group. "Getting to play the rebound game with Auston Matthews and Mitch Marner — it's what you work for your whole life."
Sparks allowed five goals in his only full pre-season game, yet his stellar AHL performance in 2017-18, in which he won every trophy he was eligible for, earned the 25-year-old the right to back up Frederik Andersen over Curtis McElhinney and Calvin Pickard, both of whom have more NHL experience and were placed on waivers Monday.
There's no guarantee they clear.
"Going through the competition, it was fierce in every way without being destructive in any way. It was all four goalies competing hard and supporting each other," Sparks said. "I feel like I'm a better goalie and a better person for the competition I just went through."
Tape II Tape
Ryan Dixon and Rory Boylen go deep on pucks with a mix of facts and fun, leaning on a varied group of hockey voices to give their take on the country's most beloved game.
Listen Now
| Subscribe
| Boylen on Twitter
| Dixon on Twitter
By picking Sparks over McElhinney, who had earned coach Mike Babcock's trust, and fourth-pair defencemen Martin Marincin and Justin Holl over Connor Carrick, new GM Kyle Dubas has stamped his signature on the roster.
All three of those players, now on the happy side of the bubble, drank from the Calder Cup with Dubas just a few months ago and were integral to the city's first professional hockey championship in half a century.
"The GM with them every day is the GM here," Babcock said.
"Sparks has been in the organization for a long time and built himself a history. His camp wasn't what got it done. It was the history and knowing the guy.
"[He's] a 25-year-old guy going in the right direction and has …read more
Source:: Sportsnet.ca – Sports news
(Visited 2 times, 1 visits today)
Kyle Dubas puts stamp on Maple Leafs roster with latest cuts