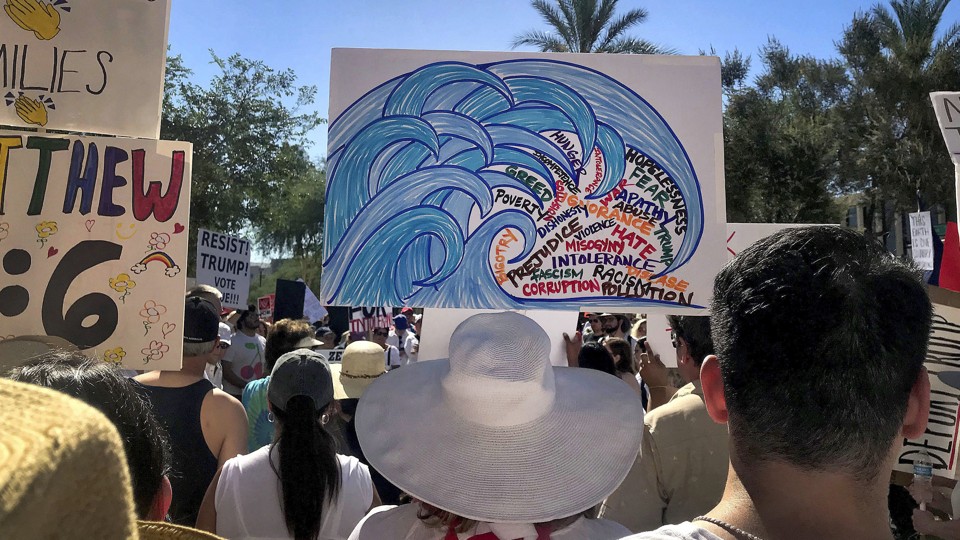 Democrats' promising prospects in the 25 Republican-held House districts that voted for Hillary Clinton in 2016 underscore the price of the electoral trade that Donald Trump's tempestuous presidency is imposing on the Republican Party.
Less than one month before Election Day, Democrats are strongly positioned to win at least 15, and perhaps more than 20, of these Clinton-Republican seats. That alone would carry them close to the 23 they need to regain the House majority—even before contesting the other competitive, GOP-held seats in districts Trump won.
The GOP's ominous chances in the Clinton-Republican districts flow directly from Trump's weak position in them. Rather than expanding his support in those places, Trump is facing growing doubts, according to recent polling, especially among college-educated white voters. Like a receding tide, this further erosion for Trump has left most of the Republicans in these seats standing naked on the beach. "I think his political strategy was particularly injurious to the Republicans running in the more blue and purple places," says the Democratic pollster Geoff Garin. "It's totally a consequence of playing to the base, which in a lot of these districts, by definition, is playing to the short side of the field."
[Read: Suburban-rural districts are turning on the GOP.]
As Garin's observation suggests, the danger to Republicans in the Clinton-won seats is a feature, not a bug, of Trump's electoral approach. In terms of both policy and rhetoric, Trump has focused his presidency almost entirely on the priorities and peeves of his base. Trump demonstrated that instinct again this week by wrapping himself around the newly confirmed Supreme Court Justice Brett Kavanaugh and escalating his attacks on the women who accused the judge of sexual assault—even though national polls just before and after the Senate vote showed that most Americans believed the women and opposed Kavanaugh's ascension.
Trump's base-first approach to the presidency has produced some tangible political benefits for Republicans. It has strengthened them in most House districts outside of the major metropolitan areas. That's also true in heavily rural and predominantly white heartland states, such as North Dakota, Montana, and Missouri, where Democrats are defending Senate seats next month. And, particularly in the aftermath of the Kavanaugh confrontation, his approach has given Republicans hope that they can minimize the usual falloff in midterm turnout for the party that holds the White House.
But the downside of this strategy—the trade-off Trump is imposing—is …read more
Source:: The Atlantic – Best of
(Visited 3 times, 1 visits today)
The 15 Republican Seats That Democrats Could Sweep