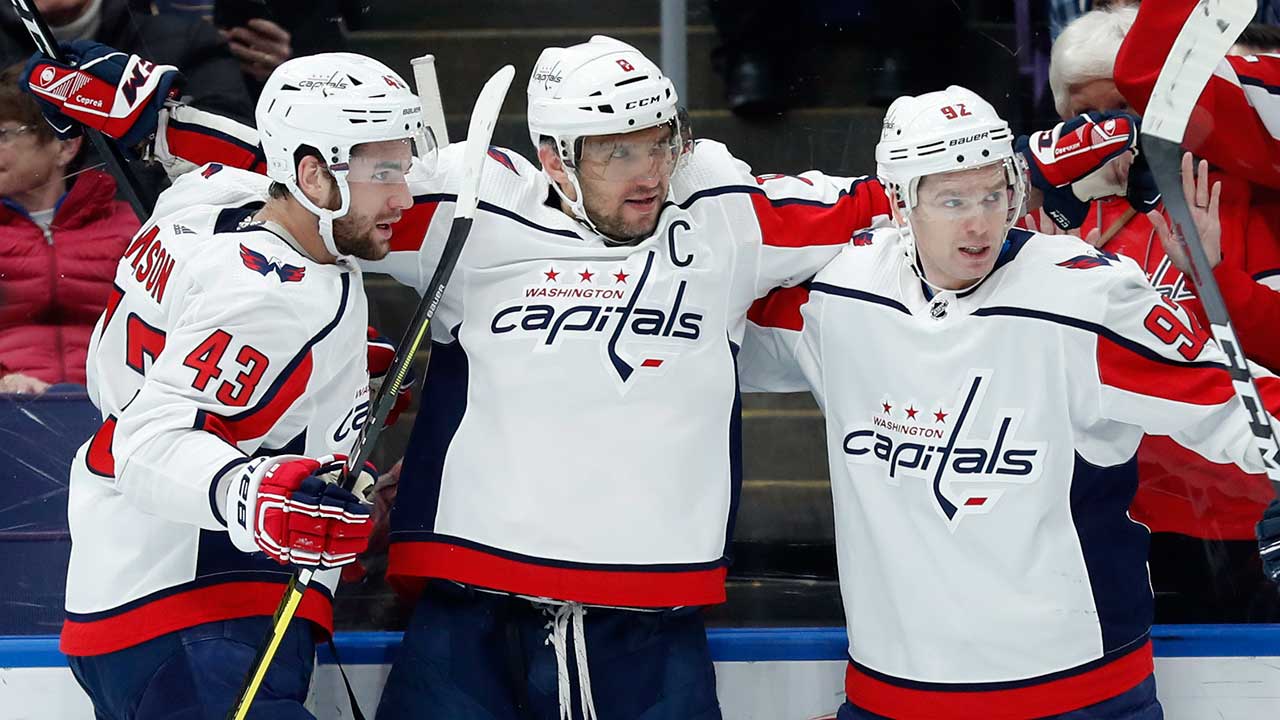 Alex Ovechkin reaches 30 goals again, Johnny Gaudreau continues his dominant season and Jeff Skinner makes his case to be an all-star.
Here are four things we learned in the NHL.
Ovechkin the first to 30
With his first-period goal against the St. Louis Blues, Alex Ovechkin became the first player to score 30 this the season, setting numerous milestones in the process.
First to 30! #ALLCAPS pic.twitter.com/CnD1y0AkcP
— Washington Capitals (@Capitals) January 4, 2019
Ovechkin joins Mike Gartner as the only other NHL players to have 30 or more goals in their first 14 seasons and the third player with at least 14 straight 30-goal seasons. He needs only 19 goals to tie Brendan Shanahan for 19th on the all-time goals list.
Alex Ovechkin of the @Capitals is the sixth player in NHL history to reach the 30-goal mark in at least 14 total seasons (consecutive or otherwise). #NHLStats https://t.co/8uaenkZOF9 #WSHvsSTL pic.twitter.com/ryZdQTp9nu
— NHL Public Relations (@PR_NHL) January 4, 2019
The 33-year-old continues to lead the league in goals with Jeff Skinner not too far behind. It took Ovechkin 39 games to reach 30 goals this season which puts him on pace to match his production from the 2007-08 season, when he scored a career-high 65 times.
If Ovechkin continues to score at this rate, he will be the first player to reach 60 or more goals since Steven Stamkos had 60 in 2011-12.
Most Goals Since Start of 2009-10:#ALLCAPS Ovechkin – 417#GoBolts Stamkos – 347#LeafsForever Tavares – 298#LetsGoPens Crosby – 298#Blackhawks Kane – 288
— Sportsnet Stats (@SNstats) January 3, 2019
Gaudreau's production matches a Flames record
Johnny Gaudreau has taken his game to another level this season for the Calgary Flames and has arguably been their most valuable player.
Gaudreau had a goal and an assist against the Boston Bruins Thursday, giving the Flames winger 61 points on the season. He's the fastest Flames player to hit the 60-point mark since the 1978-79 season, needing only 42 games to do it.
Johnny Gaudreau tied Bob MacMillan (42 GP in 1978-79) for fewest games to reach the 60-point mark in @NHLFlames / Atlanta franchise history. #NHLStats #CGYvsBOS pic.twitter.com/jKou2IC5db
— NHL Public Relations (@PR_NHL) January 4, 2019
With 23 goals, …read more
Source:: Sportsnet.ca – Sports news
(Visited 1 times, 1 visits today)
4 things we learned in the NHL: Ovechkin matching best season of his career