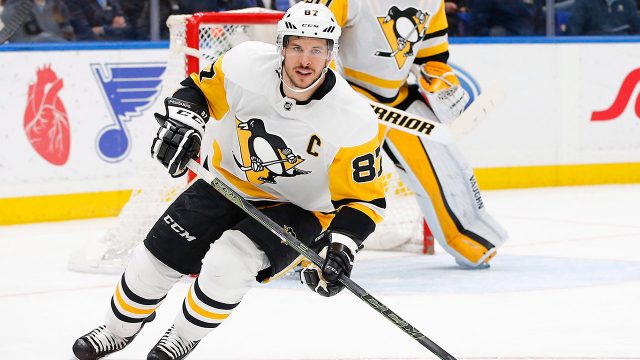 Thomas Vanek and Dylan Larkin combined for a memorable night in Motown, the Pittsburgh Penguins got back in business and Tyson Barrie set a new Colorado Avalanche record.
Here are six things we learned in the NHL.
Watch NHL games on Sportsnet NOW
Stream over 500 NHL games blackout-free, including the Flames, Oilers, Leafs and Canucks. Plus Hockey Night in Canada, Rogers Hometown Hockey, Scotiabank Wednesday Night Hockey and more.
CHOOSE PLAN
Thomas Vanek's 1,000th game one to remember
Thomas Vanek became the 10th player this season, and first Austrian ever, to play 1,000 NHL games when he took the ice for the Red Wings against the Predators. And with a goal in the second period, the 34-year-old also became the fourth Red Wings player to score on his milestone night.
Players to score while skating in their 1,000th NHL game, @DetroitRedWings franchise history:
2019 – @T_Vanek26
2017 – Henrik Zetterberg
1984 – Ivan Boldirev
1968 – Dean Prentice#NHLStats #NSHvsDET https://t.co/z0cMpcFwM7
— NHL Public Relations (@PR_NHL) January 5, 2019
According to Sportsnet Stats, Vanek is the 52nd player in NHL history to score in his 1,000th career game and fourth to do it this season, joining Brent Burns, Jason Pominville and Tomas Plekanec.
Vanek now has 364 goals and 406 assists in 15 NHL seasons with the Buffalo Sabres, Minnesota Wild, Montreal Canadiens, New York Islanders, Florida Panthers, Vancouver Canucks, Columbus Blue Jackets and Red Wings. The veteran has seven goals and 17 points in 35 games this season.
Dylan Larkin comes up clutch again for Detroit
Dylan Larkin's overtime goal against the Nashville Predators gave him a new Red Wings record.
The goal was Larkin's fourth in the extra frame this season, moving him past Herbie Lewis, Steve Yzerman and Brendan Shanahan for most overtime game-winners in one campaign with Detroit.
Dylan Larkin is the first player in @DetroitRedWings franchise history to score four overtime goals in a single season. #NHLStats #NSHvsDET pic.twitter.com/CeZKtjYWHH
— NHL Public Relations (@PR_NHL) January 5, 2019
Larkin had not scored a goal in extra time during his 242-game NHL career entering 2018-19, but now leads the league in overtime goals this season. The 22-year-old has 18 goals and 22 assists in 43 games so far.
Sergei Fedorov holds the all-time mark for overtime goals by a Red Wings player with …read more
Source:: Sportsnet.ca – Sports news
(Visited 1 times, 1 visits today)
6 things we learned in the NHL: Vanek has memorable 1,000th game