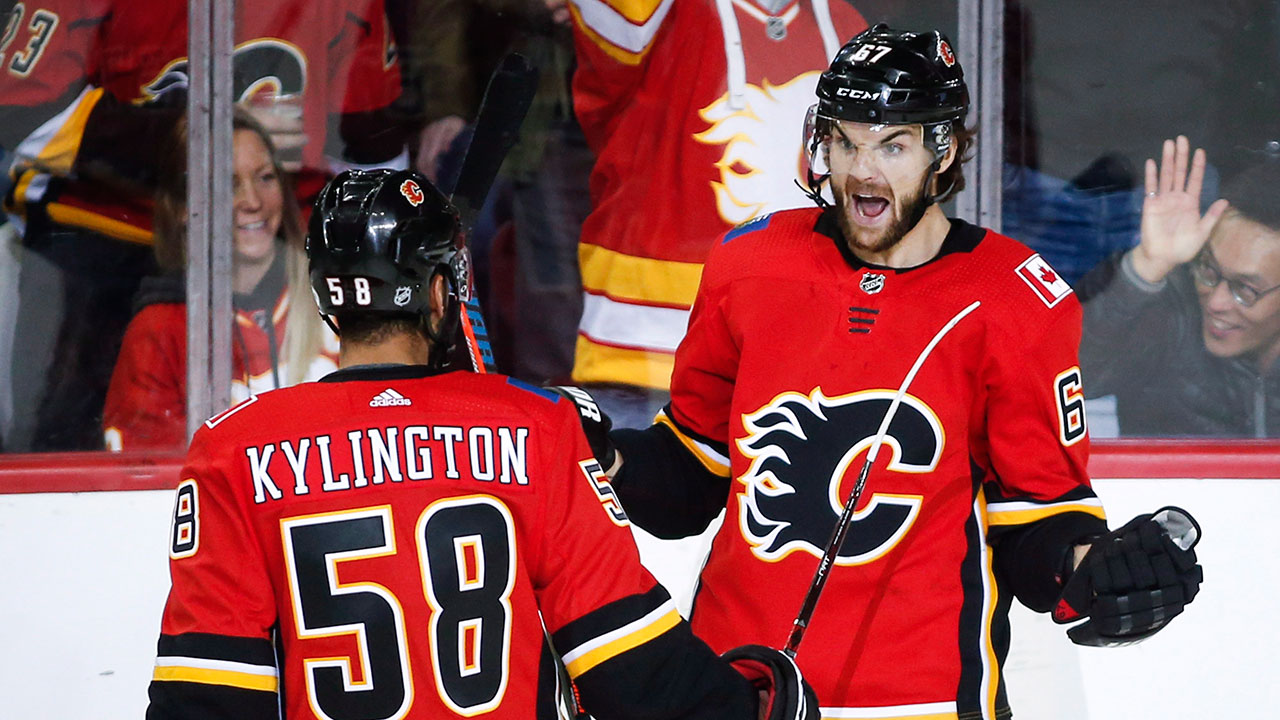 CALGARY — Ever since his agent wondered if the coach was trying to run him out of town, Michael Frolik has chipped in at a dizzying pace.
So much so, the veteran suggests he's been prone to an extreme medical reaction upon scoring.
"I just kind of black out sometimes — I don't really know what to do," chuckled the Flames' utility man when asked about a spirited goal celebration that kick-started yet another Calgary comeback Friday.
Things sure seemed dark for the local heroes early on as they opened the proceedings by being outplayed for the fourth consecutive period. Down 1-0 to a struggling Panthers squad that outshot the hosts 10-4 in the first period, coach Bill Peters told the lads things needed to change. Drastically.
So the coach went to work on what he does best — mixing lines (and this time, even defensive pairings).
Predictably, that meant Frolik was elevated from the fourth to the second line (aka the 3M Line with Mikael Backlund and Matthew Tkachuk), where his mid-game redirection past Roberto Luongo turned a 2-0 game on a dime.
Five minutes later, his brilliant setup of a trailing Mark Giordano tied the contest.
Eight minutes into the third Frolik stole the puck from Jonathan Huberdeau and found a wide-open Tkachuk in the slot to put the Flames up 3-2, before Sean Monahan iced it with an empty netter.
/*
if ( "1" == true && 'undefined' !== typeof window.getIndexAds ) {
var so = {preroll:{1:{1:{siteID:191888},2:{siteID:191889}}}};
adServerUrl = window.getIndexAds( 'http://pubads.g.doubleclick.net/gampad/ads?sz=640×360&cust_params=domain%3Dsportsnet.ca&iu=%2F7326%2Fen.sportsnet.web%2FVideo&ciu_szs=300×250&impl=s&gdfp_req=1&env=vp&output=vast&unviewed_position_start=1&ad_rule=1&vid=5988601710001&cmsid=384', so, permalink);
} else {
adServerUrl = "http://pubads.g.doubleclick.net/gampad/ads?sz=640×360&cust_params=domain%3Dsportsnet.ca&iu=%2F7326%2Fen.sportsnet.web%2FVideo&ciu_szs=300×250&impl=s&gdfp_req=1&env=vp&output=vast&unviewed_position_start=1&ad_rule=1&vid=5988601710001&cmsid=384";
}
*/
adServerUrl = "http://pubads.g.doubleclick.net/gampad/ads?sz=640×360&cust_params=domain%3Dsportsnet.ca&iu=%2F7326%2Fen.sportsnet.web%2FVideo&ciu_szs=300×250&impl=s&gdfp_req=1&env=vp&output=vast&unviewed_position_start=1&ad_rule=1&vid=5988601710001&cmsid=384";
$el.after( unescape("%3Cscript src="" + (document.location.protocol == "https:" ? "https://sb" : "http://b") + ".scorecardresearch.com/beacon.js" %3E%3C/script%3E") );
$( document ).one( 'ready', function() {
$( "#video_container-638815" ).SNPlayer( {
…read more
Source:: Sportsnet.ca – Sports news
(Visited 2 times, 1 visits today)
Frolik thriving with greater opportunity after agent's Twitter call-out