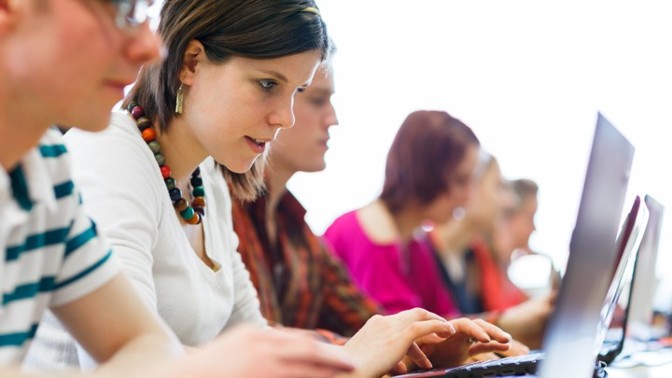 What We're Following
The GOP-led Senate voted to block President Donald Trump's national-emergency declaration—a mostly symbolic move, since Trump is all but certain to
(Shutterstock)
To surreptitiously communicate with one another during class, some teens today aren't passing paper notes, but are instead using the chat function in … Google Docs:
"Sometimes they'll use the service's live-chat function, which doesn't open by default, and which many teachers don't even know exists. Or they'll take advantage of the fact that Google allows users to highlight certain phrases or words, then comment on them via a pop-up box on the right side: They'll clone a teacher's shared Google document, then chat in the comments, so it appears to the casual viewer that they're just making notes on the lesson plan. If a teacher approaches to take a closer look, they can click the Resolve button, and the entire thread will disappear."
→ Read the rest
(SOT / Getty)
Much of the rest of the world has had a love affair with the hearty chickpea for millennia, but Americans are just catching on:
"The number of Americans who eschew meat or animal products altogether has held roughly steady in recent decades, but the amount of meat eaten by Americans overall has declined: From 2005 to 2014, red-meat consumption in America dropped by almost one-fifth. The concerns about health and the environment that drove that drop have only intensified in the five years since. Chickpeas are inexpensive and broadly available, and the global cuisines they commonly appear in are ones that de-emphasize meat in ways that Americans are starting to see as more valuable. People in the United States aren't trying anything new. Instead, they're regressing to the global mean after generations of profligate meat consumption that many now consider unwise."
→ Read the rest
Urban Developments
(Wikimedia Commons)
Our partner site CityLab explores the cities of the future and investigates the biggest ideas and issues facing urban dwellers around the world. Gracie McKenzie and Jessica Lee Martin share today's top stories:
After 20 years of planning and more than $130 million, a proposed light-rail project in North Carolina to connect cities in the Research Triangle is all but dead, after Duke University pulled its support. Local city leaders are furious.
"Gropius's aim was to introduce soul into the age of the machine. The Nazis' was to introduce the machine …read more
Source:: <a href=https://www.theatlantic.com/newsletters/archive/2019/03/yemen-national-emergency-senate-votes-the-atlantic-daily/584896/?utm_source=feed target="_blank" title="The Atlantic Daily: Is What We Know About Viruses Wrong?" >The Atlantic – Best of
(Visited 2 times, 1 visits today)
The Atlantic Daily: Is What We Know About Viruses Wrong?