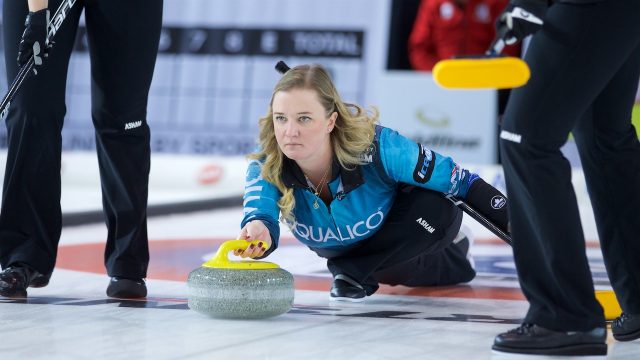 Laura Walker was all set on taking a break from women's curling next season and only competing in mixed doubles in order to focus on starting a family.
The Edmonton skip is staying in the women's game though linking up with third Kate Cameron, second Taylor McDonald and lead Nadine Scotland.
Although Walker was pretty firm about her difficult decision to step back and didn't want to let a new squad down, it was something her good pal McDonald said during their conversations that resonated with her.
"I'm not actually sure she even knows that this is what convinced me in the end but she made a comment and I believe she said, 'Of course that's OK. I hate that women feel like they have to choose,'" Walker said. "That was the way that I was feeling, to be quite honest.
"I was really feeling like I had to make a choice, especially because I was starting with a new team. … That comment from her really went to my heart and made me feel I would be supported. I loved that she said that because that's exactly how I was feeling. That's what put me over the edge."
Walker had placed curling ahead of her family before as she isn't one to do things half-heartedly and made sacrifices in order to keep up with the (Jennifer) Joneses of the curling world. She also has the full support from husband Geoff Walker, who plays lead for skip Brad Gushue of St. John's, N.L.
"It costs a lot of money to play," said Walker, who is originally from Scarborough, Ont. "If you're not going hard and trying to get into the Slams, giving exposure to potential sponsors and all of that then you're not getting any sponsors. You're paying out of pocket, you're taking time off of work and it's too hard for a lot of people to do that.
"Especially for me with my husband also being a competitive curler, if we are to have kids it makes it pretty tough for us but I have his full support too that we'll figure it out as we go and do everything that we can together."
Pinty's GSOC sets 2019-20 schedule
Save the dates! The Pinty's Grand Slam of Curling has released its schedule for next season with the Canadian Beef Masters kicking off the …read more
Source:: Sportsnet.ca – Sports news
(Visited 1 times, 1 visits today)
Alberta's Laura Walker to skip new curling team next season