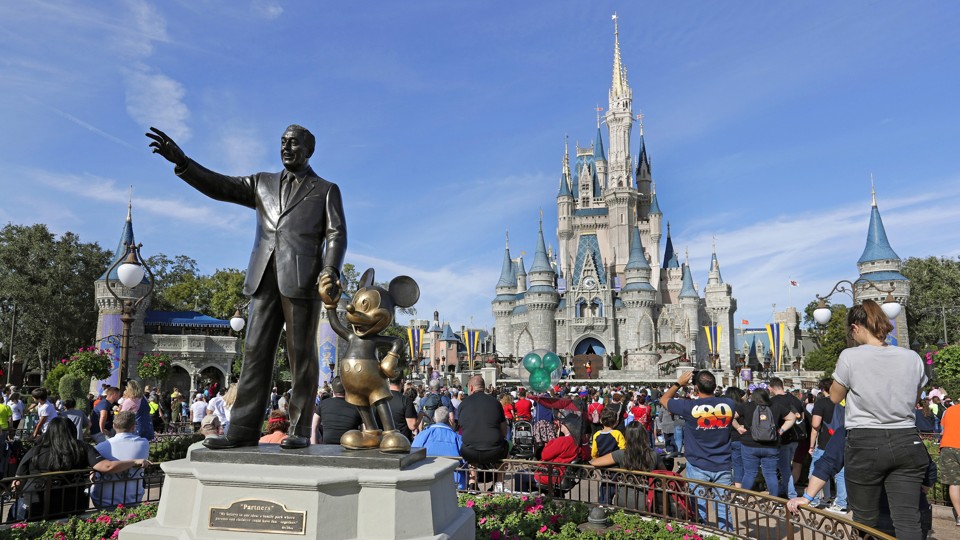 As giant companies like Apple and Disney continue to dramatically announce the details of their new streaming services, there are only two pressing questions that really matter: What exactly is the product, and how much does it cost? The March keynote for Apple TV+ barely answered the first query and ignored the second, broadly promising big-ticket TV with major stars. Intentionally or not, Disney's recent demonstration of its forthcoming online powerhouse, the similarly titled Disney+, felt pointed in its attention to detail: Chairman Robert Iger is promising a database of hundreds of hours of TV and movies, old and new, for $6.99 a month.
Had Iger just gone out on stage last week and announced the monthly subscription cost (an annual fee will be $69.99, working out to $5.83 a month), the presentation still would've probably counted as a success. Netflix and Amazon's status at the top of the streaming heap isn't going to change anytime soon—Netflix boasts 139 million subscribers worldwide and Amazon has more than 100 million, with their closest competitor Hulu quite far behind at 25 million. Disney is a late entrant to the world of online-only media and so, like Apple, it's making an argument rooted in prestige, announcing new shows and films that are part of big brands such as Marvel, Star Wars, and Pixar. But unlike Apple, Disney also has a massive archive to roll out alongside that new material, which will guarantee a wider audience base.
Among the projects in the works for the November launch of Disney+ are a show called The Mandalorian, a sci-fi western of sorts set in the Star Wars universe; a laboriously titled mockumentary series called High School Musical: The Musical: The Series; and a docuseries hosted by Jeff Goldblum. Original movies will include a live-action, CGI-heavy remake of The Lady and the Tramp and a Christmas-themed comedy starring Anna Kendrick called Noelle. But there's far more to Disney's plans for its big media properties. More Star Wars shows are in the pipeline (including one centered on Diego Luna's character, Cassian Andor, from Rogue One), while Marvel heroes including Loki, Scarlet Witch, Vision, the Falcon, and the Winter Soldier will get various spinoff programs.
For super-fans of those titles, the prospect of dedicated shows will probably be enough to justify a $7 monthly charge. Another fledgling streaming service, CBS All Access, has attracted subscribers …read more
Source:: The Atlantic – Best of
(Visited 2 times, 1 visits today)
Why Disney+ Will Be Tough to Beat