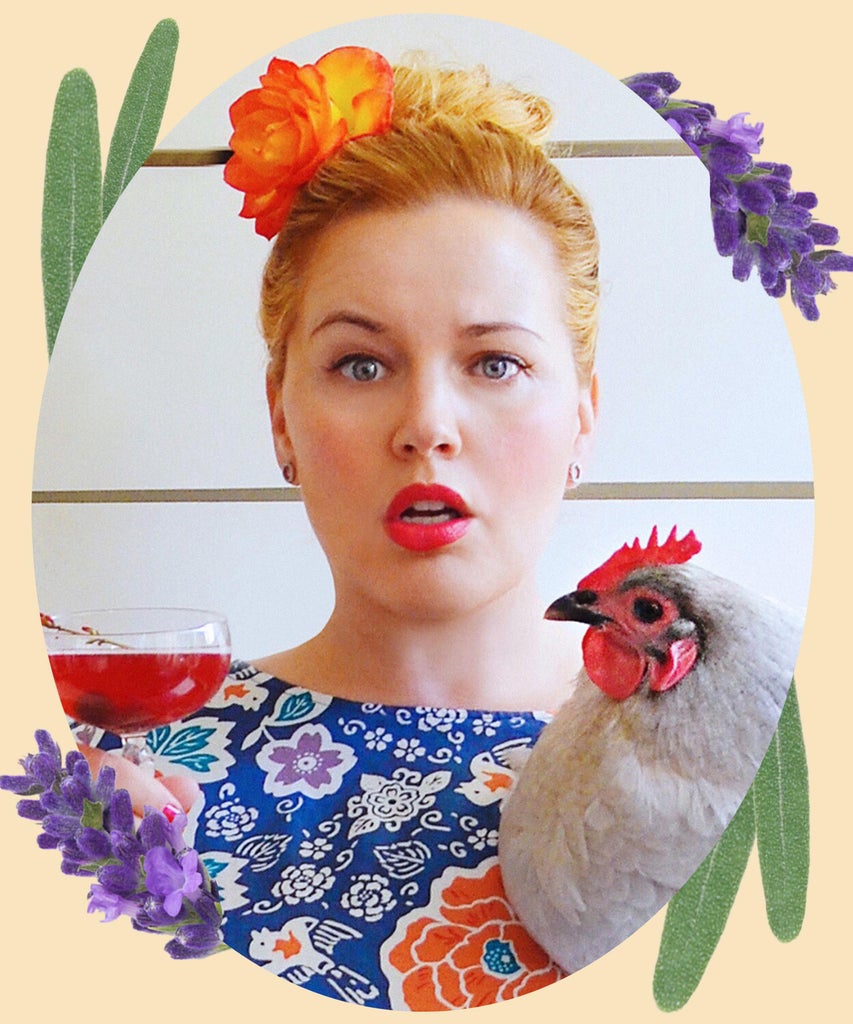 Shaken, stirred, or frozen, cocktails in their various delicious forms have another element to incorporate in 2021: Sustainability. As we become more eco-conscious in all aspects of our lives, we're learning to better appreciate and protect the earth's bounty, conscientiously celebrating the planet we all share. For cocktails, that looks like reducing food waste, buying local ingredients, and utilizing brands that prioritize sustainability.
Creative mixologist Kate E. Richard, the ringleader behind the tongue-in-cheek garden-to-glass cocktail lifestyle blog Drinking with Chickens and author of Drinking with Chickens: Free-Range Cocktails for the Happiest Hour naturally incorporates sustainability in every drink she makes, from the spirit to the garnish. But you don't have to be a pro behind the bar to whip up your own sustainable cocktails at home. Ahead, we spoke with Richards about her "progress over perfection" approach to sustainability, how at-home and professional mixologists can be more sustainable, and her go-to Eau de Lavender cocktail, which pairs Patrón Silver with eco-conscious techniques. 
Why is making sustainable cocktails important to you?
"Making my beverages as sustainably as possible is a perfect example of how small, seemingly inconsequential modifications to your basic way of living can have a positive ecological impact. It is so easy to fall into an "all or nothing" mindset with sustainability, when little changes like sourcing local ingredients for your drinks — or even growing them yourself — can really make a difference. Progress over perfection! Fresh, seasonal ingredients just make a drink tastier. It's science."
As a mixologist, what does sustainability mean to you?
"For me, it's about striving to maintain a healthy give and take with the environment around me. Obviously, we, as humans, tend to take more than we give, so for me, sustainability is about being more aware of that resource suck and doing whatever I can reasonably do to staunch it. My garden has really highlighted this struggle, and allowed me to see the benefits of my more ecologically conscientious choices: zero pesticides, herbicides, and chemical fertilizers combined with lush, dedicated pollinator-friendly plantings has made the garden absolutely vibrate with happy insects and birds. When they're happy, the garden is happy, and I reap the benefits of harvesting food and drink ingredients that leave no footprint on the planet."
What makes your Eau de Lavender cocktail sustainable? 
"The Eau de Lavender cocktail recipe [found below] is pretty darned …read more
Source:: Refinery29
(Visited 1 times, 1 visits today)
Should You Be Drinking Sustainable Cocktails? This Mixologist Thinks So.