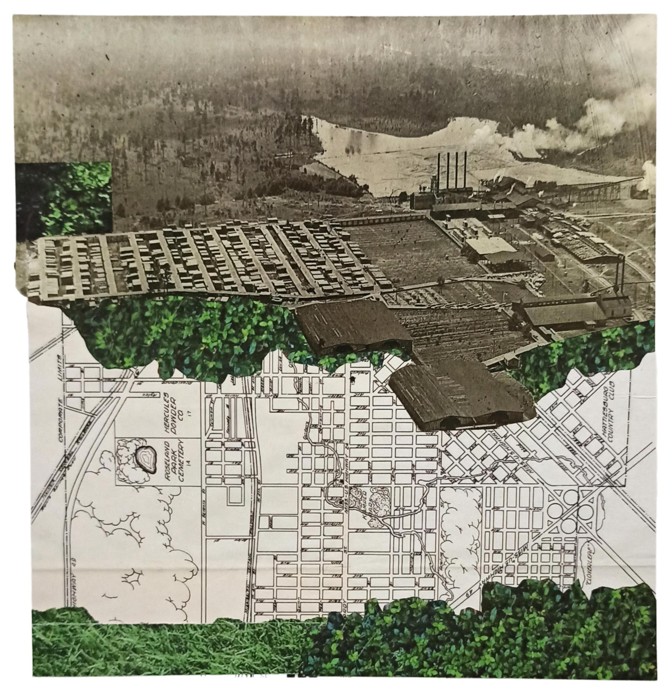 I first saw the photo at a street fair in Hattiesburg, Mississippi, in October 2011. I was at the Historic Mobile Street Renaissance Festival, an annual celebration of Hattiesburg's Black downtown. That afternoon, Mobile Street filled with thousands of people spending their Saturday in the sun, drinking sweet tea and eating soul food with their friends and neighbors. I was new in town, and I was excited to join them.
Sitting in the window of an abandoned shop was a black-and-white picture of 12 Black men. They appear in two rows, five seated and seven standing. Each man is wearing a suit and politely holding his hat off to the side. There are at least two generations present, as evidenced by their hairlines and facial features. Their faces carry mixed expressions. Most of them look serious, but some are smiling. One man even appears to be smirking, like he knows a secret. In their regal suits and poses, their faces are frozen in time. As the crowd meandered by, these men from the past sat perched in their window, hardly noticed by a soul. I couldn't shake the feeling that they were watching us. The men in the photograph haunted me.
Just two months before, I had arrived in Hattiesburg to teach at a local university and finish my doctoral dissertation. I was writing about the local Black community and its role in the civil-rights movement, but I had a problem: I was struggling to find sources that detailed the lives of local African Americans before the 1960s. So when the historic Black community held a festival in honor of itself, I went. I wanted to meet those who had come of age in that neighborhood during the Jim Crow era and borne witness to the birth of the local movement. But then I was struck by the picture in the window, and everything changed. The encounter altered the trajectory of my project, which years later culminated in the publication of my book Hattiesburg: An American City in Black and White. But more than that, the search led me to tools that could revolutionize the telling of Black history.
Name any famous figure from the civil-rights movement and it's likely that they spent time in Hattiesburg: John Lewis, Martin Luther King Jr., Fannie Lou Hamer, and many others organized in the city. I was particularly drawn to the story of Hattiesburg's …read more
Source:: The Atlantic – Best of
(Visited 1 times, 1 visits today)
The Future of Black History