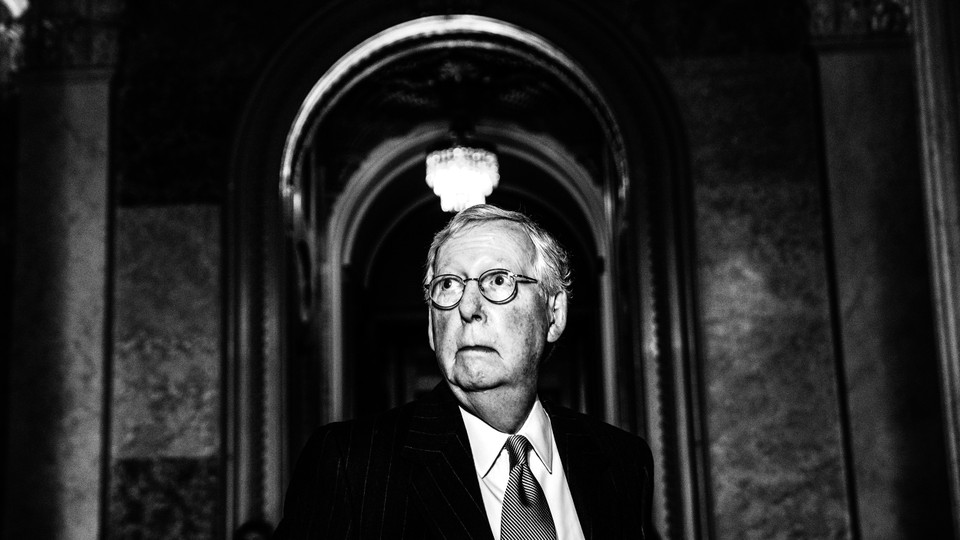 The names Todd Akin, Richard Mourdock, Sharron Angle, and Christine O'Donnell have been lost to history, consigned to the dustbin of Beltway barroom trivia. For Mitch McConnell, however, they remain an all-too-fresh reminder of opportunities squandered.
McConnell became Senate majority leader in 2015, but had it not been for those four flawed and ultimately defeated Republican candidates, he might have reached his dream job years earlier. Now McConnell is trying to regain that powerful perch, and a slate of similarly problematic contenders in key states may be all that stands in his way.
On paper, Republicans have a prime opportunity to recapture the Senate majority this fall. They need to pick up just a single seat to break the current 50–50 tie, and the political environment is tilting heavily in their favor. President Joe Biden's approval rating is mired in the low 40s, inflation is rampant, and the Democratic majority rests on a trio of vulnerable incumbents in states—Arizona, Georgia, and Nevada—that the president carried by fewer than 60,000 votes combined in 2020.
Yet the GOP may be stuck with candidates whose pockmarked, and in a few cases, scandal-filled, résumés could render them unelectable—or at least they would have in an earlier era. In Missouri, a state that should not be attainable for Democrats, the Republican nominee could be Eric Greitens, a former governor who resigned in disgrace over sexual-misconduct allegations and whose ex-wife has accused him of abusing both her and their son in court filings. The likely GOP nominee in Georgia, Herschel Walker, is a former NFL star with his own stormy past. Former President Donald Trump has endorsed celebrities making their first runs for office, J. D. Vance in Ohio and Dr. Mehmet Oz in Pennsylvania, whose reversals on key issues—including, in Vance's case, Trump himself—offer ripe targets for critics on the left and the right. The lone vulnerable Republican incumbent, Senator Ron Johnson of Wisconsin, has campaigned against COVID-19 vaccines and has seen his popularity plummet in a state that Biden narrowly won two years ago.
McConnell is well aware of the GOP's good fortunes this year—and how easily the party could blow it. "How could you screw this up?" the once and perhaps future majority leader mused recently in Kentucky. "It's actually possible. And we've had some experience with that in the past."
He was referring to the …read more
Source:: The Atlantic – Best of
How Republicans Could Blow Their Big Senate Chance