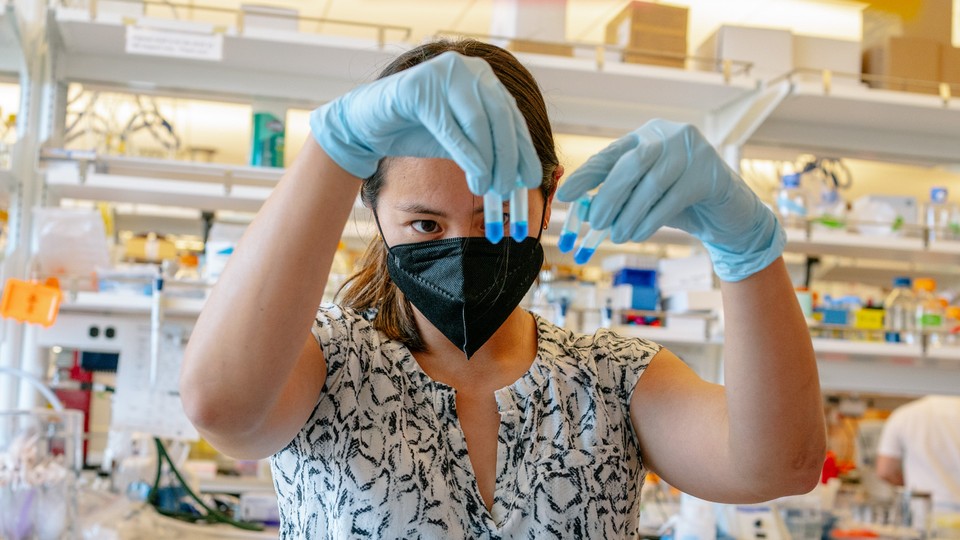 Many parts of the U.S. government, including its leading scientific agencies, are being blamed for the country's chaotic and disorganized response to COVID-19. The CDC's muddled and mistaken messaging about masks, testing, and the mechanism of viral spread sowed public confusion. The FDA's extreme caution about approving boosters may have slowed the deployment of those vital measures. But a nation's ability to weather a pandemic also depends upon its underlying ability to make major scientific discoveries, even—or especially—during moments of crisis. Success is not just a matter of luck; historically, the United States has made a series of strategic decisions that put researchers in a position to make timely breakthroughs. Yet amid the biggest health crisis in 100 years, the National Institutes of Health (NIH), the $42-billion-a-year engine of our nation's biomedical-research infrastructure, has been strangely quiet.
In Washington, the NIH is a vanishingly rare entity: It enjoys bipartisan support. Since the end of World War II, its funding priorities have directed the research conducted at the nation's medical schools, university science departments, and academic hospitals. It has furthered foundational research at the cellular and molecular levels, while also accelerating the progress of translational science—that is, the development of new treatments for use at patients' bedside.
[Jay Varma: How public health failed America]
During the coronavirus pandemic, however, the NIH has appeared more a doddering, tired institution than a robust giant bestriding the gap between science and clinical care. Two and a half years after the coronavirus first surfaced, doctors, scientists, and the general public still need answers to essential questions about how to prevent and treat COVID-19—questions that America's preeminent health-research agency is well placed to help answer. For instance, the
NIH, the largest public funder of clinical trials in the United States, should also have been well positioned to create treatment guidance for doctors caring for patients hospitalized with a brand-new disease. The recent Infectious Diseases Society of America guidelines for treating hospitalized COVID patients cite more than 40 published clinical trials. By our count, only a handful were generated by the NIH. Unfortunately, such failures are not an anomaly.
To the agency's credit, NIH scientists did play an important role in making the amazing mRNA vaccines a reality. The researchers Kizzmekia Corbett and Barney Graham and their team at the NIH's Vaccine Research Center created a mechanism to stabilize the coronavirus's spike protein so …read more
Source:: The Atlantic – Best of
The Missing Part of America's Pandemic Response