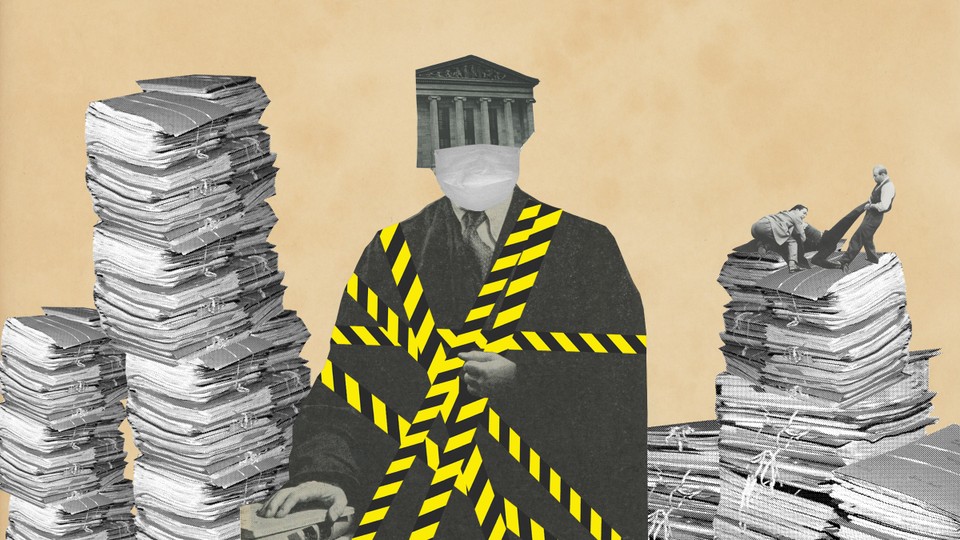 This article is a collaboration between The Atlantic and ProPublica.
On Dec. 31, 2020, a 40-year-old man named Leon Casiquito walked into Kelly Liquors on Route 66 in Albuquerque and tried to shoplift a bottle of tequila. When one of the owners, Danny Choi, tried to stop him, Casiquito flashed a small pocketknife. Choi told police he knocked the bottle out of Casiquito's hand with a stick and Casiquito left the store.
Choi locked the door, but Casiquito hung around in the parking lot, shouting that he was going to beat up the store's employees. One of them called the police, and soon four officers arrived and wrestled Casiquito to the ground. He was charged with armed robbery and aggravated assault with a deadly weapon—despite not actually attacking anyone with the pocketknife—and held without bail at the Metropolitan Detention Center in Albuquerque.
Casiquito had had similar run-ins with law enforcement before, mostly related to his troubles with alcohol and drugs. Those problems, his family believes, may have started with the pills he was prescribed in his teens after he was hit by a car while riding a four-wheeler and thrown 30 feet, putting him into a coma for a few days. At 30 he suffered another accident—a car hit him while he was out walking, breaking both his legs and requiring more pain medication. By the time of his 2020 arrest, his family thought that a brief sojourn in jail—which is what someone in Casiquito's situation could expect under normal circumstances—might help him get himself clean.
But these were not normal circumstances. Like many states, New Mexico had drastically curtailed the operation of its courts in response to the pandemic. Some civil trials and preliminary hearings for criminal matters moved online, but actual criminal trials needed to be conducted in person in front of juries. Bernalillo County, which includes Albuquerque, suspended such trials for much of 2020 and 2021. Meanwhile, new cases kept pouring in, partly as a result of the surge in violent crime that accompanied the pandemic. The nation's homicide rate rose by nearly 30 percent in 2020 and another 5 percent in 2021, essentially erasing two decades' worth of declines in deadly violence.
Criminologists have offered several explanations for the increase, including the rise in gun sales early in the pandemic, changes in police behavior following the protests over the murder of George …read more
Source:: The Atlantic – Best of
A New Explanation for the COVID Crime Wave