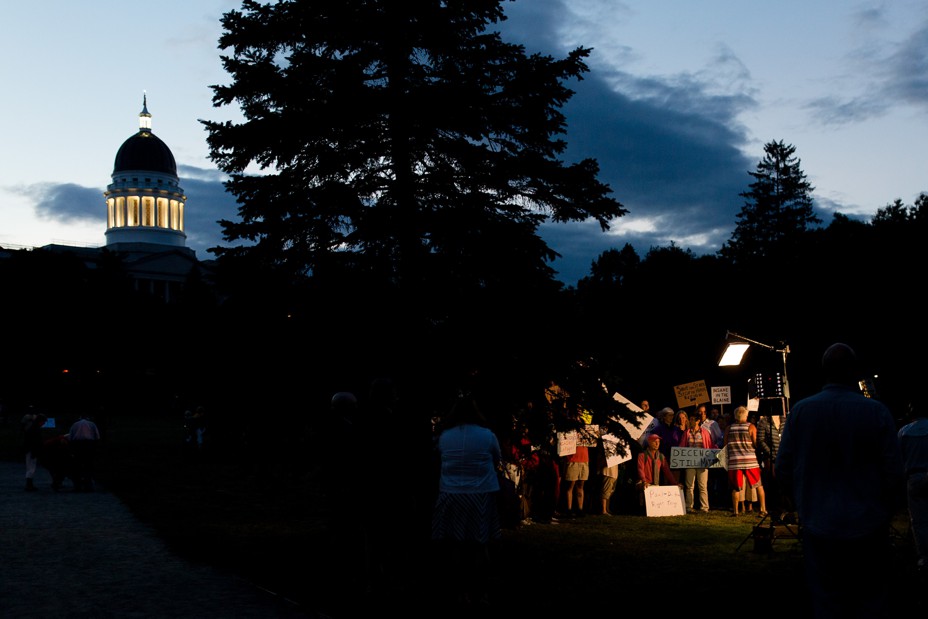 JAY, Maine—Services at the New Life Baptist Church had just wrapped up, and in the parking lot outside its tiny chapel, Paul LePage was standing behind me with his arm wrapped around my head. He held a cellphone inches from my face, as if he were filming an extreme close-up. The former and perhaps future governor of Maine had insisted on reenacting an incident that had occurred a few weeks earlier, when he'd threatened "to deck" a Democratic operative tracking his campaign. "If you come into my space," LePage had warned the young man, "you're going down."
I had asked LePage about the flap because it represented exactly the kind of uncivil confrontation for which the pugnacious Republican has become known. For more than a year, he had studiously been trying to avoid such encounters—and had largely succeeded. LePage, who as governor once challenged a Democratic legislator to a duel, famously bragged that he was "Donald Trump before Donald Trump." After two tumultuous terms, he left office four years ago with an approval rating of just 39 percent. Now 73, LePage is attempting a comeback, bidding to oust the Democrat who replaced him, Janet Mills. With Trump eyeing a revival of his own in 2024, the gubernatorial race this fall could serve as a test of Maine voters' appetite for the return of a Trumpian leader after four years of somewhat calmer Democratic governance.
A changed man LePage is not. But he is trying at least to sand down his rough edges, perhaps recognizing that the bombastic style he pioneered is no longer a winning formula in a state that shifted left in 2018 and decisively rejected Trump two years later. The governor who labeled people of color as "the enemy" of the nation's whitest state has joined the parade of candidates denouncing the vitriol and even occasional violence that have infected American politics. "There's an awful lot of hate in the hearts of many people, and it's sad," LePage told the parishioners inside the church, during a service on the 21st anniversary of 9/11. "We have to pray it away," he said. "We have to come together as one nation." Quoting Abraham Lincoln's warning that a house divided cannot stand, LePage bemoaned the deep fissures between Republicans and Democrats. "It's becoming vile and horrible."
Was LePage trying to present a kinder, gentler version of …read more
Source:: The Atlantic – Best of
Has Trumpism Run Out of Steam?