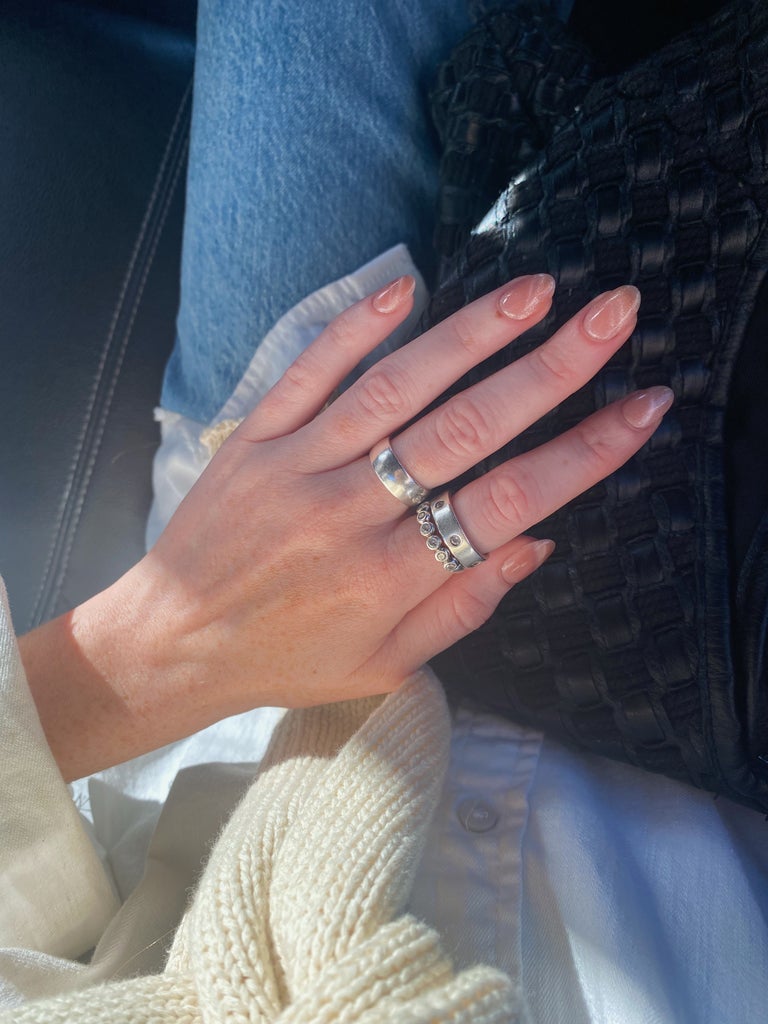 The thing I love most about nail art is that it's a conversation starter. The other day, I was in the dressing room line at Everlane with a pile of denim in my arms and I noticed the girl in front of me has the coolest manicure: a royal purple chrome with ornate gemstones. "They took four hours," she told me once we got to talking. "And, these get stuck in my hair," she gestures to the honking jewel glued in the center of her ring finger.
In contrast, my own manicure is very minimalist, but it also has a story. Last week, I got my nails done at New York's Vanity Projects salon. My nail artist, Natsuki Amano, is capable of the most extra and intricate art. The design I ask her for is one she immediately notes as simple but very popular right now: the velvet manicure.
What is a velvet manicure?
This design originated in Korea and goes by a few names. I like the velvet manicure because the finish reminds me of a Juicy tracksuit or a holiday dress that I want to run my fingers up and down. When I show Amano my inspiration image (a velvet manicure R29 Beauty Director Sara Tan posted on Instagram last week) she calls it something different: "Oh, the cat eye," she says. Other artists refer to it as a magnetic gel manicure. It's all the same.
How do you get a velvet manicure?
The process requires a two part system: a magnetic gel polish and a magnet. At Vanity Projects, they use Japanese gel. Amano painted a base coat of clear gel (common practice for any Japanese gel manicure), and then used a magnetic gel by From The Nail, a Korean polish brand, over top. Though my velvet nails inspo reads more of a sandy-brown color, I opted for a sheerer pink-toned neutral, almost an exact match to my skin tone. (There were about 20 magnetic gel shades to choose from, I just wanted something very subtle.)
What makes the magnet gel different from an ordinary gel with glitter? The use of the magnet. After my magnetic polish has been applied and cured, Amano brought out this small rectangular magnet (about the size of a refrigerator magnet) and hoovered it over each nail for just …read more
Source:: Refinery29
I Got A 'Velvet' Manicure & Now I'm Obsessed With Magnetic Gels