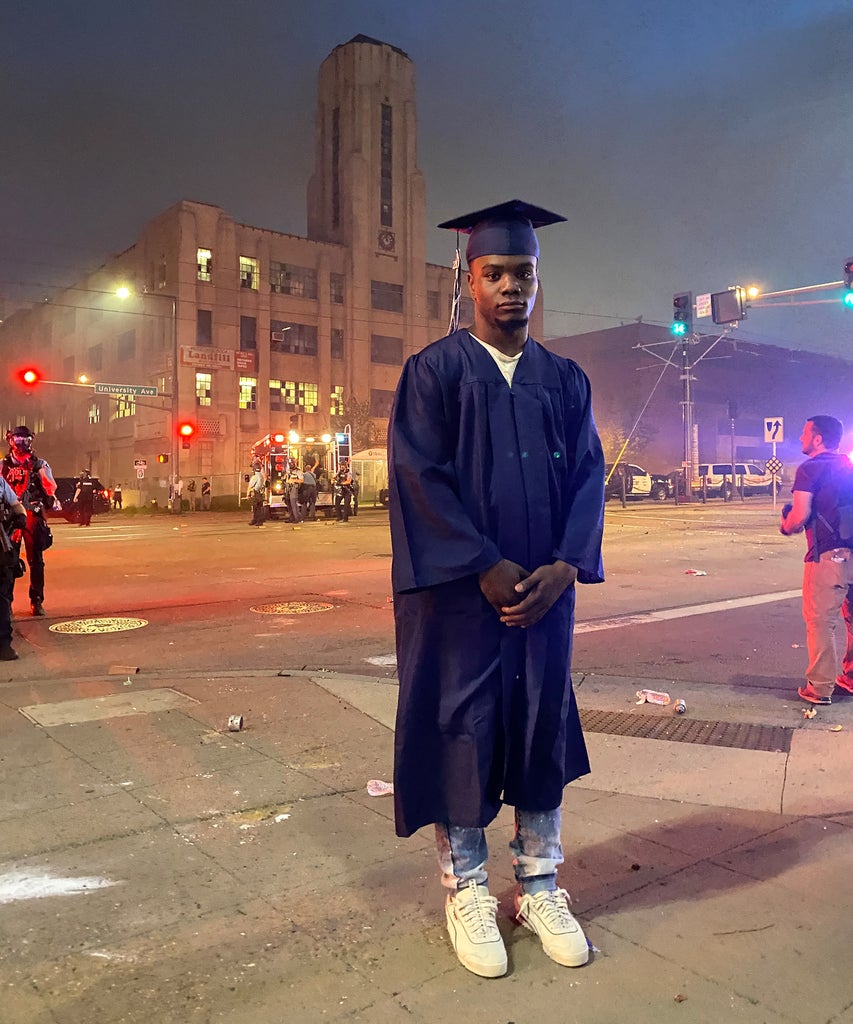 It was a striking image, even if the subject's pose and attire were familiar: Gorgeously dressed in bright white sneakers and a flowing blue gown, the young person stood tall, a glowing city behind him. It's a picture-perfect example of a street-style shot. But instead of a lit-up Paris, it was St. Paul lit up with police floodlights. He was wearing his graduation gown, there to witness, support, and speak out against the police brutality, white supremacy, and anti-Black forces that have made his graduation an unspeakably tragic one.
"I was looking forward to graduating with a cap and gown," Deveonte Joseph told me over the phone. The seventh sibling out of ten, Joseph is the first in his family to graduate high school with a diploma, an incredibly hard-won and meaningful achievement.
"It's been hard. I've fought through it, but I did it. I graduated. We graduates from 2020 are going through all this. And it's not fair, because there are a lot of people who wish to be in that crowd, and walk across that stage, and wear that gown, and throw up your cap with everybody," Joseph said, explaining that his graduation, scheduled for this week, will be modified to observe social distancing procedures — "a car meet-up and drive around the city or something."
17 yo Rachel Garrison commemorating her graduation as valedictorian of North Education Center. She was here when Minnehaha Liquors burned protesting for George Floyd. pic.twitter.com/bEPebz7j5E
— Rochelle Olson (@rochelleolson) June 2, 2020
During a time that should be marked by graduation celebrations, another kind of observance is taking place. Across the country, in the middle of a pandemic that necessitated rigid stay-at-home measures, demonstrations and protests have erupted in nearly every major American city against anti-Black criminal justice systems and anti-Black federal and state institutions. This weekend, young Black people have had to choose between demonstrating against the apparatuses that disproportionately kill them or staying at home to avoid a virus that also disproportionately kills them.
One day after George Floyd's murder in Minneapolis, the protests spread across the river to St. Paul. Before stepping out, Joseph took out his graduation robes, still fresh from their packaging. "When I put on the gown, I felt like I really accomplished something big. My brother always told me that not a lot of African Americans even reach my age. It's a big accomplishment …read more
Source:: Refinery29