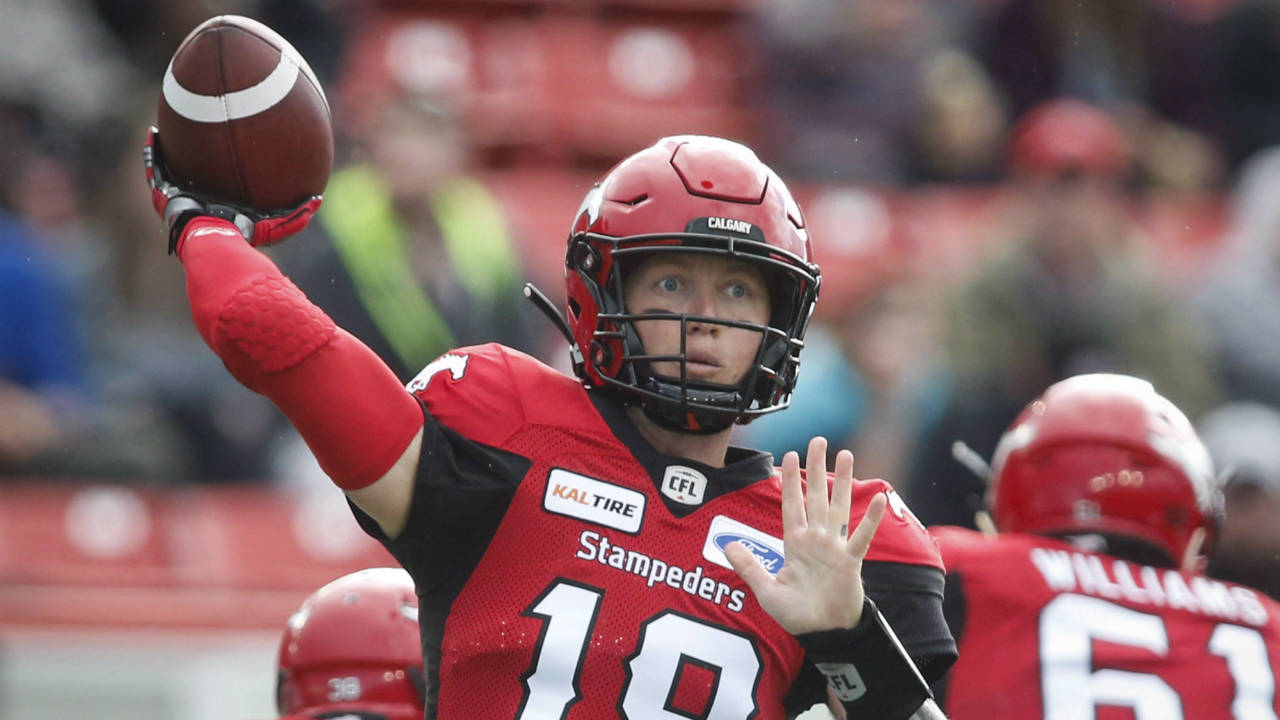 TORONTO — Bo Levi Mitchell and the Calgary Stampeders turned the Grey Cup rematch into a lopsided rout Saturday night.
Mitchell threw three touchdown passes as Calgary embarrassed Toronto 41-7 at BMO Field in the first meeting between the two teams since the Argonauts' 27-24 Grey Cup win in November. Mitchell improved his career regular-season record against the Double Blue to 9-0 while guiding the Stampeders to their ninth consecutive regular-season victory over the defending CFL champions.
Toronto also lost starter Ricky Ray late in the third. After being sandwiched between two Stampeders defenders, Ray received on-field medical treatment before going on a backboard then a stretcher with his neck immobilized and leaving on a cart following roughly a 20-minute delay.
Ray, who could be seen moving his fingers, finished 12-of-17 passing for 74 yards. He was replaced by James Franklin, who scored Toronto's lone TD on a 10-yard run at 9:11 of the fourth.
Mitchell improved his career regular-season record to 58-10-2 and is 27-3-2 versus East Division teams. Rookie running back Don Jackson also ran for 123 yards on nine carries while Eric Rogers registered five catches for 131 yards and two TDs.
Mitchell finished 20-of-22 passing for 324 yards with the three TDs before giving way to Nick Arbuckle in the fourth.
Calgary (2-0) also registered its sixth straight road win over Toronto (0-2). The Argos last beat the Stampeders on Sept. 21, 2013 and their last home victory against them came July 7, 2012.
Toronto opened a season with two straight losses for the first time since 2002. Ray lost his seventh straight start against the Stamps and dropped to 14-23 all-time against them before a home-opening crowd of 16,450, roughly 1,550 short of a sellout with the upper-east balcony closed.
After gaining just 69 first-half yards offensively, Toronto opened the second half turning the ball over on downs. Franklin was stopped on a third-and-one gamble at the Calgary 49-yard line.
Calgary responded with Mitchell's 10-yard TD strike to Rogers at 5:33 to go ahead 27-1.
Arbuckle, DaVaris Daniels and Terry Williams, on a 102-yard punt return, had Calgary's other TDs. Rene Paredes had five converts and two field goals, boosting his streak to 15 straight.
Ronnie Pfeffer added a single for Toronto.
Paredes' 18-yard field goal at 14:32 of the second staked Calgary to a commanding 20-1 half-time advantage. Toronto's defence had few answers for Mitchell and Co. while the Argos' offence struggled to move the ball …read more
Source:: Sportsnet.ca – Sports news