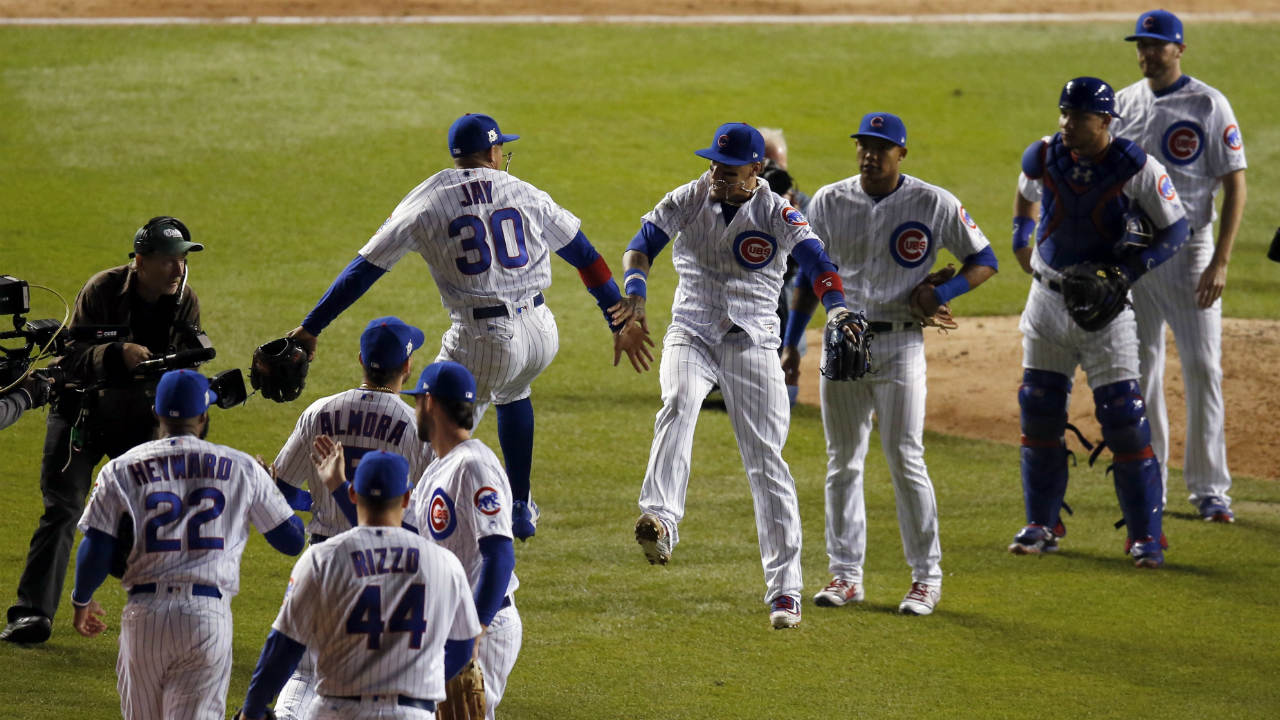 The Chicago Cubs lived to fight another day Wednesday, riding a terrific outing by Jake Arrieta and some late-game resolve from Wade Davis to a 3-2 victory over the Los Angeles Dodgers.
Chicago's hopes in this NLCS remain slim, as they'll have to win three more consecutively against baseball's best team in order to make history. But they've at least gotten a quarter of the way there.
For the Dodgers, Wednesday was their first loss of the post-season. They'll have Clayton Kershaw on the mound when the series resumes Thursday, which is a pretty good way to try to get over what they hope was a slight speed bump on their way to greater things.
Alex Wood makes a debut
Pitching for the first time in three weeks, and making the first post-season start of his life, Dodgers left-hander Alex Wood presented a bit of a wild card as Los Angeles looked to complete the sweep. He was excellent during the regular season, putting up a 2.72 ERA over 152.1 innings. But he also hadn't pitched in a game since Sept. 26.
The first inning was a breeze, but the second was not as Chicago put up a pair of runs. The Cubs have scored first in each game this series, and that continued Wednesday when Wilson Contreras took a first-pitch two-seamer for a ride, crushing a solo shot off the scoreboard in left.
Then, a batter later, Javier Baez added on with a solo blast of his own, snapping an 0-for-23 post-season skid in a big way and helping the Cubs surge ahead early.
The ball Baez hit was a curveball right at the bottom of the zone, a pitcher's pitch that the Cubs second baseman was nonetheless able to drive out of the yard, leaving Wood to only shake his head. You could've said it was a fluke, if not for the fact Baez hit an even better pitch over the wall in the fifth inning, going down below the strike zone to get to a perfect Wood change-up and somehow muscle it into the left-field bleachers.
Wood was out of the game shortly after that, throwing only 70 pitches over his 4.2 innings. It wasn't a perfect outing. But, really, the only pitch Wood can feel bad about is the one to Contreras. The two Baez hit were perfectly placed. As a pitcher, there's little else you …read more
Source:: Sportsnet.ca – Sports news