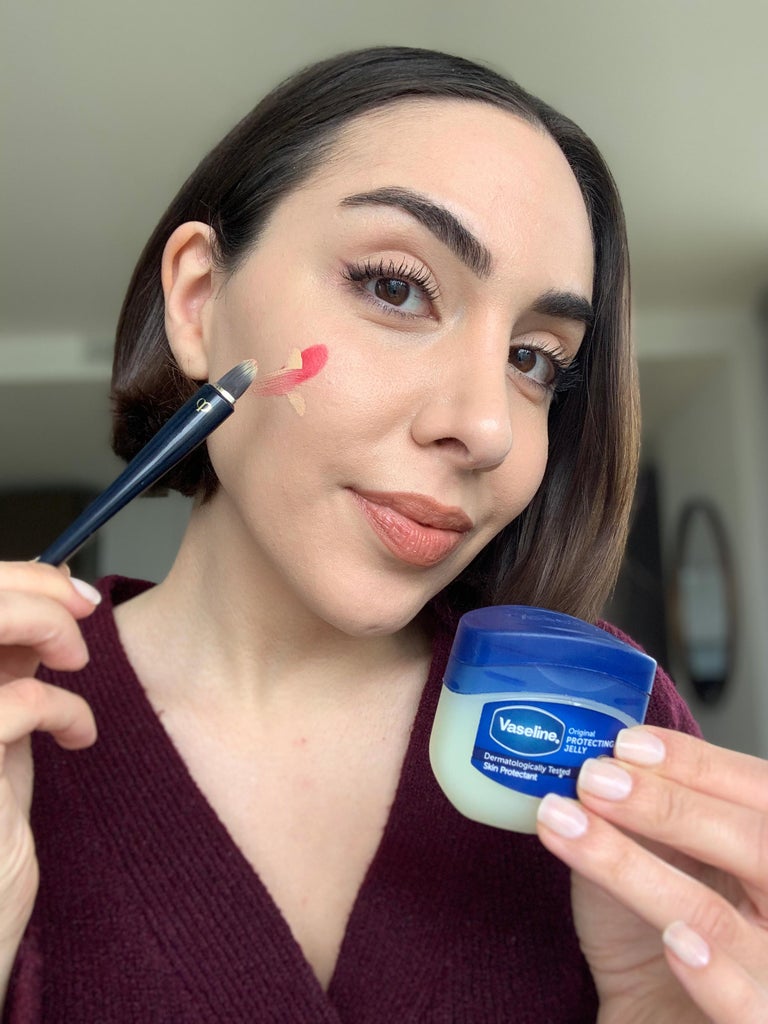 Welcome to Beauty In A Tik, where each week we put TikTok's viral beauty hacks and innovative trends to the test.
In a world obsessed with buccal fat removal and painstaking contouring to make the face appear slimmer, I welcome TikTok's newfound love of using makeup to enhance (rather than try to hide) what we've got. Take the 'model complexion' hack, for example, a makeup trick which encourages us to show a little more of our skin. This week, it's all about drawing attention to your cheeks, making them look like dewy dumplings.
Yes, dumplings. Makeup artist Nam Vo is the pro behind the cute blush hack, which went viral on TikTok and Instagram recently. The speedy makeup tip is said to make cheeks look plump and skin appear juicy, but you might want to shelve your favourite blush for a moment because Nam's trick is to reach for a red lipstick. Simply swipe it onto the highest point of each cheek then, before blending, add a dot of concealer and a dab of petroleum jelly. The glossiness of this rich skincare product is responsible for the dewy, dumpling effect.
@namvoglow #dewydumplings #cheekhack #namvoglow #cheekhack #glowingskin ♬ She Share Story (for Vlog) – 山口夕依
Since Nam posted the speedy blush hack, a handful of TikTokers have stitched the video, including @mercedesleebeauty, who has amassed tens of thousands of views, and @sollpenamakeup, who has an impressive 643.5k views and counting.
If you're a Beauty In A Tik regular, you'll know that this isn't my first lipstick blush rodeo. That hack made quite the statement; Nam's dewy dumplings blush effect is a little more understated and appears to be much less effort. However, I had questions. Would this DIY blush stick around throughout the day? And I have acne-prone skin, so would the petroleum jelly cause me to …read more
Source:: Refinery29
TikTok's 'Dewy Dumplings' Hack Made My Blush Look The Best, Ever