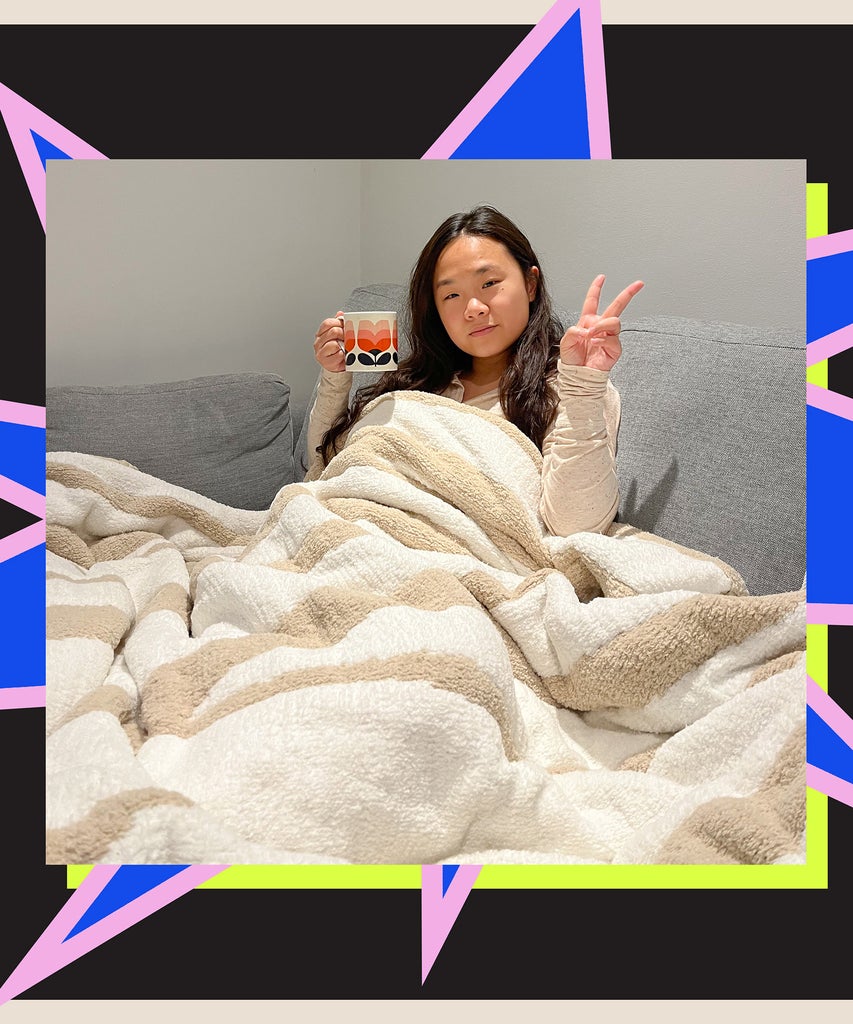 Yawn! Welcome to Sleep Week, a seven-day stretch where we source the best buys in the Zzz-catching business—from editor-vetted bedtime rituals to exclusive mattress deals and more of the internet's most slumber-worthy scores. Go ahead, hit snooze with us.
I don't know about you, but I've fully entered my couch potato era. If you're anything like me — a perennially cold girl who is very picky about bedding — reaching the zenith of coziness doesn't come easy, and it has everything to do with picking the right blanket to swaddle me in.
I love the comfort of knitted throws and fleecy heated blankets, but I find myself wanting something that captures the best of both worlds: A simple throw blanket isn't quite enough to keep my icy feet warm, while the fleecy look of heated ones leaves a lot to be desired aesthetically speaking. This is why when Sunday Citizen's Double Snug Woodland Comforter landed on my radar, I was all too happy to give it a snuggle trial.
The brand is more popular for its weighted blankets, but it's the glowing reviews under the Double Snug Comforter that really caught my eye. "This one is hands down the best thing I've ever slept under," one customer wrote. At $350 for a queen-size option, this is definitely an investment piece. But, does it really guarantee the coziest sleep ever? Keep reading to find out if the comforter passed my sleep test.
DashDividers_1_500x100
Sunday Citizen Double Snug Woodland Comforter, $360
My first thought upon unwrapping the packaging was whether I received the brand's weighted blanket by mistake — it feels a lot heavier than your average comforter, which usually has down or cotton filling. The surface layer of this comforter is comprised of the brand's signature "snug" fabric, a double-stitched microfiber that is fluffy and slightly bouncy to the touch. The inner lining is a smooth bamboo material. The bulk of the weight comes from the filling, made from 50 recycled plastic bottles. I definitely appreciate the brand's commitment to reducing the amount of ocean plastics by repurposing them into something useful.
The stitch-top fabric has a very cosseting, "cloud-like" vibe, and it comes in a Scandi-chic swirl pattern in an array of muted colors. I went for a white-and-tan combo to add a bit of warmth to my living room and bedroom, which are furnished mostly in blues and …read more
Source:: Refinery29
We Sleep-Tested The Internet's Snuggliest Comforter