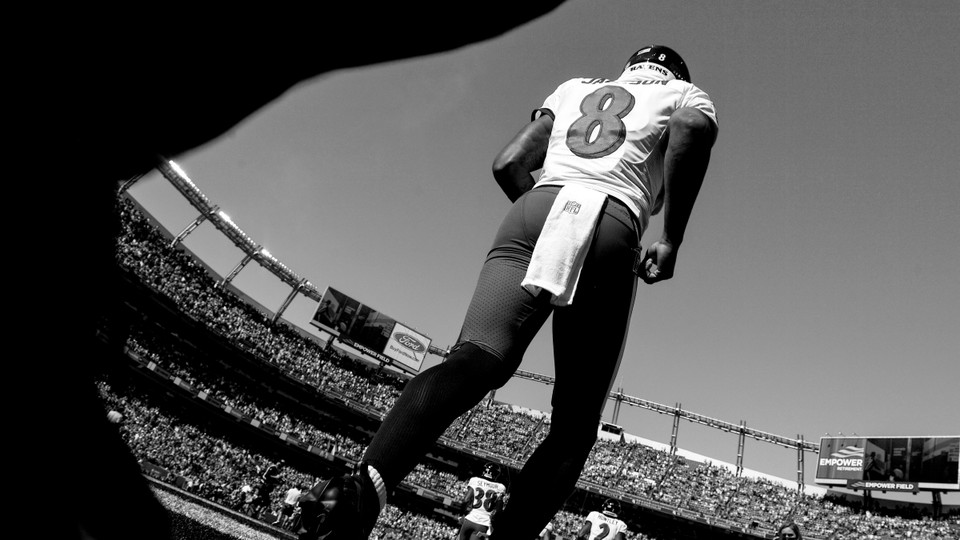 Quarterback thirst is a perennial issue in the NFL—where most teams struggle to fill football's marquee position—but that isn't helping the former league MVP Lamar Jackson.
Jackson's ongoing contract dispute with the Baltimore Ravens has morphed into a good, old-fashioned power struggle that pits players' interests against the hypocrisy and stubbornness of NFL owners, who are desperate to reset the market now that quarterbacks are successfully using their leverage to attain precedent-setting contracts. Historically, most NFL players' contracts have been partly contingent upon their staying healthy and maintaining their skills, but quarterbacks in particular have been seeking and receiving fully guaranteed contracts.
[Jemele Hill: In praise of selfish NFL players]
Owners seem to be using Jackson to show their resolve. The Ravens and Jackson have been trying to negotiate a long-term contract extension for two years. Earlier this month, the Ravens placed a nonexclusive franchise tag on Jackson, giving him the right to negotiate with other teams, and themselves the right to match any offer. If Jackson gets another offer that Baltimore doesn't match, his new team will have to compensate the Ravens with two first-round draft picks. The Ravens have until July 17 to sign Jackson to a long-term deal, but if that doesn't happen, Jackson will earn $32.4 million next season. That number may sound good, but had the Ravens given Jackson the exclusive franchise tag, Jackson's salary would have been about $45 million.
On the surface, the Ravens' strategy is risky: Another team could sign their franchise quarterback. But the second-youngest MVP in NFL history doesn't seem to be garnering much interest from other NFL teams. It's perplexing—even to other NFL players. As the New Orleans Saints safety Tyrann Mathieu recently asked on Twitter, "When is the last time a league MVP was treated so disrespectfully??"
A number of factors complicate the story. One is Jackson's health history. Jackson has missed 10 regular-season games over the past two seasons because of ankle and knee injuries. One of the things that makes Jackson a special player is that he's dangerously elusive and one of the best athletes in the league; he holds NFL records for rushing yardage by a quarterback. But his style of play also leaves him vulnerable to injuries.
Another factor is that Jackson doesn't have an agent, and that seems to bother a lot of people. If Jackson were to …read more
Source:: The Atlantic – Best of
NFL Owners Are Making an Example of Lamar Jackson